These Are the Only Things I'll Need to Organize and Refresh My Home for 2023
We independently select these products—if you buy from one of our links, we may earn a commission. All prices were accurate at the time of publishing.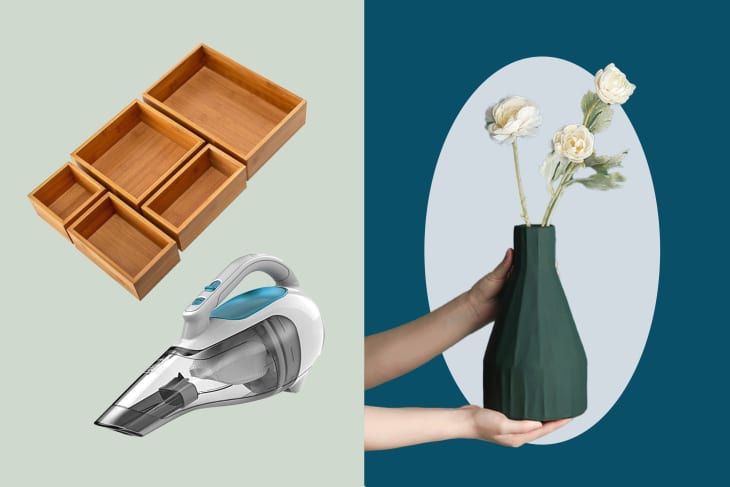 Each year, right about now, I try my very best to avoid overcommitting and underdelivering on life goals. When the New Year begins to creep up on me, I find myself obsessing over which life skills I can somehow immediately improve upon to ensure a better year ahead. I almost always bite off more than I can chew and set myself up to fail. Typically, I spend the start of the year with my sights set on truly unrealistic "goals" and "resolutions," like "organize my entire home" or "keep a clean house." Well, that all stops this year.
My only goal for 2023 is a simple one: I want to feel — and live — just a little bit better at home. And rather than pledge yearlong perfection to get there, I'm instead going to start the new year with a focus on doable, bite-sized cleaning and organizing tasks I can actually accomplish that will make a big impact on my daily quality of living. (You know, kind of like the ones we share as part of the January Cure tradition here at Apartment Therapy!)
This means decluttering a drawer instead of an entire closet, or treating myself to fresh flowers to brighten a space instead of a pricey furniture upgrade. To get a jumpstart on this, I'm going to be making small cleaning and organizing updates to my home. I've already started shopping for the essential items that will help me get there. Here's what I'm buying now to prepare to feel more comfortable and at peace at home for the New Year.
While it can be overwhelming to commit to decluttering your entire home, it's much more practical to start one room — or drawer — at a time. To help me tackle the busiest drawer in my kitchen with ease, I'm relying on this convenient and stylish assorted bamboo box set. I love that the boxes can be used to store items in a drawer or neatly on a countertop.
There's nothing like a bouquet of freshly cut flowers to instantly brighten a room. When my spirits and my space need a boost, I head to my local nursery or grocery store to stock up on happy blooms. And what better place for these fancy flowers to live than inside this colorful handmade ceramic vase? I'm honestly not sure which one will be prettier sitting in my kitchen, the flowers, or their new home. Pick from a selection of sizes and colors to find the vase that's ideal for your space.
There will be no more staring at boring bare walls in 2023 for me. I've been unable to decide exactly what to hang for years, so I've put up very little since we moved in. I recently located a box full of cherished keepsakes, like old handwritten love letters I wrote to my husband when we first met, vintage black and white photos of my late mother and a printed wedding photo we thought we'd lost forever. Rather than keep holding off until I buy my first investment piece of art, I'm going to start small and turn these memories into the perfect gallery wall. This set of five connectable frames from Umbra beautifully displays photos and stationery (or just about anything you'd call art) and you can adjust it to find the arrangement that best suits your wall. This might just be the easiest art project I've ever done.
Paper clutter is one of my biggest trouble areas, and in 2023 I'd rather it didn't pile up quite as much around the house. An easy solution for this is to add small wastebaskets around the house, as needed, so it's easier to toss unwanted paper, like old receipts or junk mail as soon as I discover it. I'm ordering this one I spotted at Target for my entryway — also known as our landing strip — so mail clutter can never make its way onto the kitchen counters again.
This year, I realized that we do have a bit of a "clothes chair" problem. You know, when you have a chair — bench or ottoman — that you never really see because it winds up being the home for all the lightly worn clothing you toss? Sure, I could vow to banish our messy habits of just tossing laundry someplace nearby for good. But it's probably more realistic to try to create a new place for these items to go that isn't our furniture. Vertical storage is always a great solve for this problem. This LURT / ENERYDA wall rack with six knobs from IKEA should do just the trick. It's not too busy or bulky and it will hold the loose items we always leave lying around for ease of use, like scarves, pet leashes, jackets, and my handbag.
If I did make New Year's resolutions, my first one would be: Stop buying so much bedding. I love refreshing our primary bedroom by swapping out old bedding for a new set, but this means the extra bed linens start to pile up in our tiny hall closet. My friend swears by these Amazon storage bags for packing away large amounts of bulky bed linens. I recently saw firsthand just how easily she's able to stuff, zip and stack them into her closets to create more space and now I'm looking forward to doing the same. Just in time to treat myself to a new duvet cover for 2023, of course.
Setting "the mood" to clean has always helped me enjoy it more, and stick with it. Tricks like having a cleaning playlist or lighting a candle have really worked for me in the past. Next year, I'm continuing the scent party by investing in a diffuser like this one that can double as decor and a calming tool. For me, being more intentional about little ways I can make something stressful feel more relaxing and filling my home with scents that bring me instant joy and peace — hello, anything with lavender — is an excellent way to set the tone for the year to come and how I want to feel throughout it.
A Reliable Handheld Vacuum
I admit it, I'm guilty of putting vacuuming off one too many times because I don't want to drag our heavy-duty vacuum cleaner around. It always feels like a bigger commitment than it is, right? That's why a lot of people love having a handy and reliable handheld vacuum around. Will I vacuum twice as much in 2023? Probably not. Will I use this top rated BLACK+DECKER dustbuster cordless handheld vacuum I spotted on Amazon (with it's crevice tool and increased bowl size) to quickly tackle dust-prone problem areas as I spot them? Chances are good.
I typically kick off the new year with a massive purge of the clutter around my home and it's almost always an overwhelming experience. Sometimes I wind up tossing or donating things I miss later because I didn't think I had a home for them to stick around. This year my smaller project is to find a a new way to better utilize and optimize my existing space — starting with turning the extra room beneath my bed into smart bonus storage space with these top-rated underbed containers. They're perfect for stashing seasonal clothes and extra blankets.
If you could also benefit from taking small, achievable steps toward a cleaner, happier home, like me, join Apartment Therapy's January Cure program, — a guided home refresh that send you daily assignments in your email, beginning Jan 2. Sign up below!
Reset Your Home with the (Free!) 2023 January Cure
Renew your space with our free 20-day January Cure program — it all begins January 2.