The Life-Changing Organizer That Overhauled My Morning Routine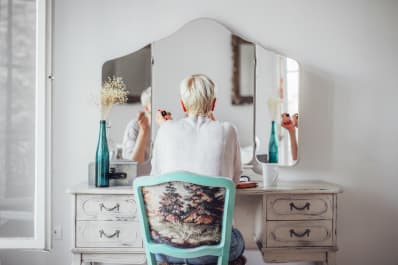 (Image credit: Studio Firma/Stocksy)
I have a long history as a skincare and makeup hoarder. Perhaps it started with my mother's proclivity for gifting me jumbo Lip Smackers sets every Christmas since I was about seven, or my obsession—rivaled only by my butterfly clip fixation—with finding the ideal anti-acne product to settle my difficult teenage skin.
But things really got kicked up several notches when I landed a summer internship in the beauty department of a national magazine during my junior year in college. You can probably imagine the elation of being a 21-year-old with unlimited access to all the moisturizers, face masks and eyeshadows I could dare dream of (and never actually afford to buy myself). Fast forward to my late 20s and 30s as an editor at a publishing company that had regular beauty sales (I'm talking $$$ serums for cents on the dollar) to unload all the free samples received by one of our sister publications. All of this meant serious, serious trouble for my bathroom. Where would it all go?
Well, for the longest time, the answer to that question was...wherever it fit. Sure, I'd pass off as much as I could to my mother, sister and friends, but I'm sorry to admit that I'm greedy when it comes to goodies I can slather on my skin in the name of being all glowy and having just the color lipstick for my outfit of the day. I kept a lot of it (not to mention whatever I actually bought for myself at Sephora, Glossier, et al). We all have our vices and weaknesses, after all.
The storage struggle I created for myself was very real. That is, until I found the ideal solution: a monstrous nine-piece acrylic makeup organizer that not only organized my various eyeshadow palettes, mascaras, lipsticks, primers and more, but made actually doing my makeup far more efficient.
Instead of digging around my medicine cabinet and bathroom drawers or pulling out plastic containers from under my sink just to find that one brow pencil I needed, everything is right at my finger tips. Need a little concealer for my dark circles because I watched one too many episodes of The Man in the High Castle the night before...it's right there. Feeling frisky and confident enough to rock my Cruella velvet matte NARS lip crayon today? Yup, it's there...in its designated "lip stuff" compartment.
(Image credit: Charles Dundas-Shaw)
Now, perhaps the best part about this whole thing (besides the obvious) is the price. After some heavy search (and nearly crying at the MSRP of beauty blogger favorites ICEbOX and CosmoCubes), I stumbled upon the well-reviewed Sorbus Acrylic X-Large Display Set and bit the bullet. Each compartment nestles into the piece below it, making the whole set up super sturdy. Plus, after nearly a year of daily use, I can honestly say it still looks like new and the acrylic hasn't yellowed in my humid bathroom or gotten too badly scratched. Oh, it's important to note that several sizes are available, so if you have no need for a near vault, you can purchase each piece individually, as well.
Bottom line, if you're looking for a solution to your own beauty product hoarding tendencies (or even if you have more self control but still need something to organize the edited selection you do have), I'll bet my highlighter collection that you too will sing this makeup organizer's praises.
Apartment Therapy supports our readers with carefully chosen product recommendations to improve life at home. You support us through our independently chosen links, many of which earn us a commission.