Best Advice: White Marble Countertops Pros & Cons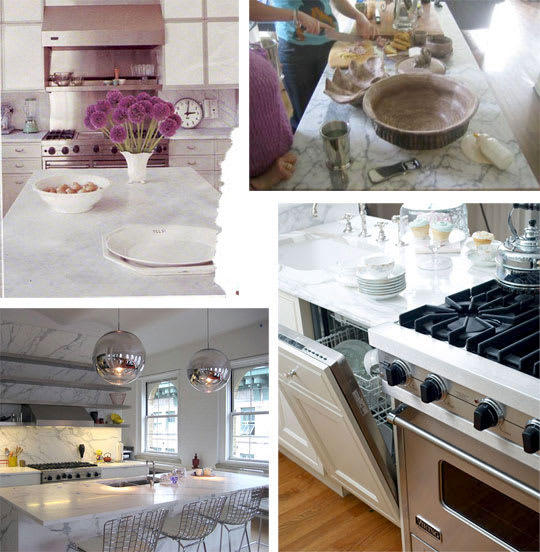 I'm a big fan of white marble counter tops. Over the years I've seen a lot of great ones and collected a bunch of information on how to care for them. There are also a bunch in my new book with lots of info, which I've given you a sneak peek of here (it's out in May, but you can pre-order).
The basic pros of white marble are that it's one of the cheaper of the stone counter top options AND it looks fantastic, adding a lot of light and brightness to the kitchen. The con? It can stain, so it requires some care, and that can drive some people nuts. Personally, I'm for a little care and don't mind imperfections. Here's the whole story in pictures.
This is from Kelly Geisen's remarkable apartment in New York City:
"The counter tops here are all Calcutta Gold Marble. Continuing up backsplash gives a continuous clean look, more uniform and open – excess marble from the kitchen was used on all the window sills which makes them easier to clean."
>> Apartment Therapy's Big Book of Small, Cool Spaces (Hardcover)
----
"In Martha Stewart Living a few months ago, they highlighted stone surfaces and there was a beautiful picture of MSLO's chief creative officer, Gael Towey's kitchen (above). She had carrera marble throughout her kitchen and you would bet she planned for it to look good for a long time. General care called for selecting a polished surface and
- wipe up spills immediately (especially alchohol and citrus juices)
- don't place hot, wet or abrasive objects on the surface
- employ the use of trivets and mats"
>> Why Not Do White Marble Kitchen Countertops? with 86 Comments
----
"All in all the results were fairly conclusive that while marble can stain, you really have to brutalize it to stain it. Furthermore, the tests proved that if you use a good sealer it can stand up to just about anything."
>> Marble Countertop Tests at The Petch House with 13 comments
----
"In the kitchen you will find remarkable bedmates: Ikea cabinets and custom marble tops. We were blown away by the cabinets and had never seen them before."
>> Josh and Adele's Brooklyn Aerie with 29 comments
----
"There's nothing like having a marble countertop. You have to baby it more, but if you love your kitchen, that shouldn't be an issue."
>> JMC's Kick-Ass European with 16 comments
----
"The kitchen features Seattle-based Henrybuilt cabinetry, a Moroccan tile backsplash, a Shaws Original handmade fireclay sink and a Calcutta marble countertop."
>> A Kitchen Remodel Leads to the Whole House with 1 comment
----
"This photo most definitely goes in our "bathrooms we covet" file. Just look at that fabulous marble counter/sink/backsplash, and the built-in shelf that's just big enough for a small vase, and, perhaps, a treasured object or two..."
>> Inspiration: Marble Bathroom Counter with 9 comments
----
This is from the ultra cool Krex family home in New York City designed by Bangia Agostinho:
"The counters and backsplash are all Calcutta Gold 1 ¼" (backsplash cut down to ¾") – self picked in upstate at New England Stone."
>> Apartment Therapy's Big Book of Small, Cool Spaces (Hardcover)
Apartment Therapy supports our readers with carefully chosen product recommendations to improve life at home. You support us through our independently chosen links, many of which earn us a commission.