Best Affordable Small & Prefab Homes 2011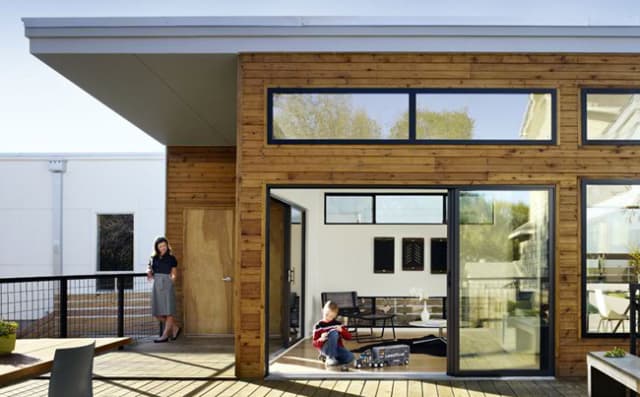 It's taken a few years, but prices on many prefab homes have dropped into the range of affordability, while DIY plans have become more popular, too. Warren Buffet's company, Clayton Homes, now offers green prefab dwellings under $100k, and new build-it-yourself plans clock in as low as $10 per square foot for materials. Here's our latest list of the best resources, complete with costs and updated for 2011.
Rocio Romero
Missouri-based designer Rocio Romero is well known for her minimalist prefab homes, which arrive flat-packed and can go up in a few months' time.
• Cost: Starts around $120-$195/sf including shipping and finishing.
Little House on the Trailer
Stephen Marshall designs and builds tiny homes on top of a flatbed trailer. He offers three types of structures: dwellings complete with kitchen and bath, offices, and art galleries.
• Cost: Starts around $45,000 to $65,000.
Clayton Homes i-house
Produced by Warren Buffet's modular housing business, Clayton Homes, the i-house is a prefab model that includes a number of standard green features, such as Energy Star appliances.
• Cost: Starts at 723 square feet for around $75,000.
PopUP House
Designed by House Port, the PopUP consists of a large freestanding roof, prefab wall panels, and an instruction manual. No accoutrements (like flooring or appliances) included.
• Cost: Starts around $100 per square foot.
Katrina Cottages
After Hurricane Katrina devastated America's Gulf coast in 2005, architect Marianne Cusato designed and developed one of the most popular low-cost emergency shelters: the 308 sf Katrina Cottage.
• Cost: Starts at $700 for plans and $55 a square foot for materials.
Just Sheds
Apartment Therapy writer Tammy Everts used this company's shed plans to build a 180 square foot vacation home for her family. They sell plans only — supplies and labor not included.
• Cost: Starts around $25 for plans and $9.75 per sf for materials.
Airstream
The classic American RV. Manufactured in Ohio, the aluminum Airstream is a luxury trailer that's become the icon of designer mobile homes. Apartment Therapy's toured several refurbished ones.
• Cost: Starts around $30k for a new Airstream.
The Tumbleweed Tiny House Company
Around 1997, Jay Schafer began pioneering the art of building and living in small spaces. All of his houses are finely crafted from wood frames.
• Cost: Starts around $38k.
Weehouse / Alchemy Architects
Minnesota's Alchemy Architects are the makers of the modular prefab weeHouse, a modern home that can be fitted with solar panels and off-the-grid energy kits.
• Cost: Starts around $150 per square foot.
Pacific Yurts
Based on traditional nomadic yurts, these are round and can be erected on a platform in hours. They're bare bones, but extras (like windows, doors, insulation, etc.) can be added to suit your comfort.
• Cost: Starts around $3,950 for a 12-foot yurt.
Tiny Texas Houses
Builder Brad Kittel makes these Texas "Tiny Houses" from 95% recycled materials. Unlike modern prefab mini-homes, each one is unique and reflects the style of its salvaged parts.
• Cost: Starts around $42,000.
maModular
Owned by KRDB, a design/build firm in Austin, Texas, maModular makes all-inclusive prefab homes that can ship to site within 180 days. They're available in all 48 contiguous states.
• Cost: Starts around $125 per square foot.
RELATED RESOURCES
• Best Tiny Travel Trailers: From Airstream to Teardrop
• Best Small Home Designers and Builders
• Prefab and Portable Living: Best of 2008

Main Photo: ma Modular