This Steam Mop has Over 2,000 5-Star Reviews on Amazon—And Might Make You Ditch Your Regular Mop
We
independently
select these products—if you buy from one of our links, we may earn a commission. All prices were accurate at the time of publishing.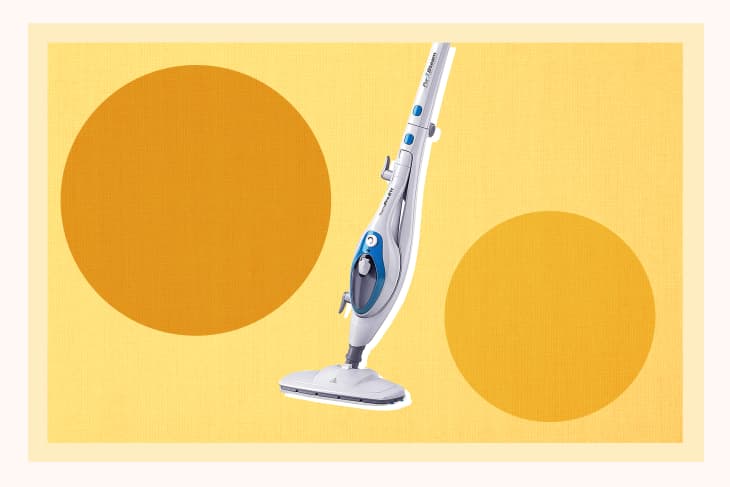 If you're ready to give your home a deep clean, not just any mop will do. While regular mops are typically budget-friendly and give you some major scrubbing power, steam mops are an efficient and eco-friendly alternative—since they rely on steam to sanitize, no harmful chemicals are needed. Therefore, a steam mop is a great choice for households with children or pets, or just for those who want to reduce reliance on traditional chemical cleaners.
In our search for a good steam mop, we came across the ThermaPro 10-in-1 steamer mop, which is currently one of the top-selling steam cleaners on Amazon. Its 2,000 5-star reviews initially caught our attention, but the more we researched it the more we liked what we saw. First of all, it's sleek and lightweight (kind of a cross between a regular mop and a vacuum cleaner), and it offers about 20 minutes of steam for a good floor cleaning. And it heats up in 30 seconds!
Most importantly, it also transforms from a steam mop into a handheld steamer that can take on a range of surfaces, including glass, tile, wood, linoleum, and even carpets. It also comes with a whole lot of accessories, including washable mop cleaning pads, a window squeegee, a straight nozzle for targeted jobs, and several nylon brushes. When not in use, the handle folds down so it can store easily. All that's missing is a bag to keep all the accessories contained, though that's a pretty easy to fix problem.
You can even use it to steam your clothes if you're really in a pickle, though of course it's preferable to stick to a traditional clothes steamer that doesn't come into contact with dirty floors. It is, however, a feature that sold several reviewers—including one who said they got "professional dry cleaned" results for a uniform.
"This product has changed my ability to clean thoroughly and more quickly," the same reviewer admitted. "Some of the nastiest messes that I've ever tried to clean with other methods that require a lot of time and energy come out with ease. I've used it to clean tough areas to reach like blinds and crown molding. I've started using it to clean almost every surface area in my home. I clean the shower, tiles, floors, and even the oven. I am really surprised by how effective this machine works."
For soap scum and grout, the steam mop loosens built-up grime, and the results are immediate. It "was really satisfying to see the dirt be lifted so easily," reported back one user. Oh, we totally agree. It's quite easy to get lost in the review videos that show just how much dirt hides in plain sight.
"My kitchen floor is sparkling, and I used the squeegee to steam clean the textured shower doors in the guest bath, which until now were the bane of my housekeeping existence," said another reviewer.
So there you have it: A good steam clean will make your floors, bathrooms, ovens, and more look shiny and new, and the ThermaPro is just the device to get you there.