This $42 Shelf From Amazon Instantly Organized My Storage-Challenged City Bathroom
We
independently
select these products—if you buy from one of our links, we may earn a commission. All prices were accurate at the time of publishing.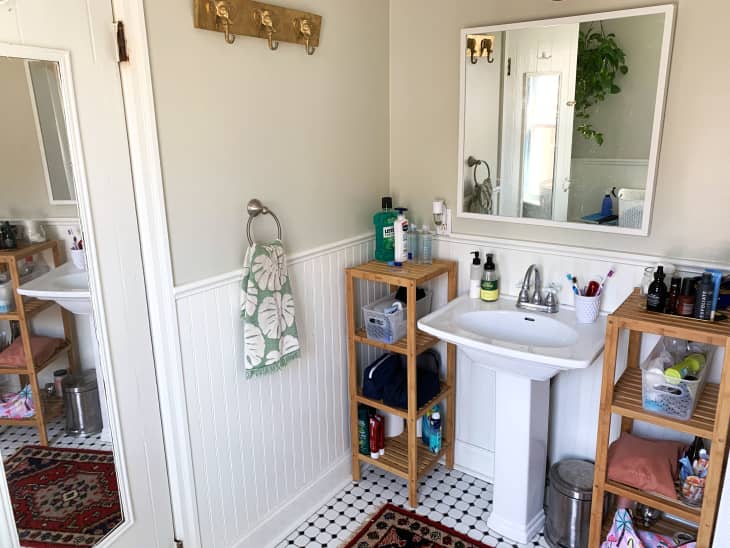 When I first moved from Manhattan to Philadelphia, one of the the biggest adjustments was getting used to the extra space. My New York City bathroom was so small I could wash my hands and take a bath at the same time, and now we have two whole full-sized bathrooms in the same apartment. Sure, the new bathrooms are kind of old and every now and then the faucets leak, but for the very first time, there is space. Storage, though? Not so much.
Neither of the bathrooms in our new apartment have built-in storage, medicine cabinets, or even a shelf. And as much as I wanted to move into our new place and immediately buy every piece of furniture CB2 and West Elm sold, it simply wasn't possible with our post-move budget.
Very quickly though, the lack of storage in the bathroom became a problem. There was nowhere to put any of my skin care products (and as a former beauty editor, I needed my skin care products in the bathroom). My fiancé didn't have anywhere to put the XL tub of mouthwash he always insists on buying every few months. There were extra rolls of toilet paper and cleaning supplies randomly stacked on the floor. It was driving me nuts. I needed a solution to all the clutter—something affordable, sturdy, and that looked good (maybe not perfect, but good). I was also hoping to buy something that could transition to other rooms for storage in the future, or cold be easily styled in different ways when I wanted to switch things up.
I was skeptical that the shelves would work at all, but turns out, they did the trick. Are they my perfect bathroom aesthetic? Not exactly. Have I succeeded in buying the chic storage containers to put on every shelf instead of crowding products on each level? Not quite yet (it's on my list). Still, though, for a massive storage solution that was around $100, the shelves were (and still are) ideal. They don't look cheap or like they're about to collapse at any minute, and the bamboo material contrasts nicely with the vintage tile floors and rug in the bathroom.
I still do find myself rearranging products and storage containers on the shelves every couple weeks, but for the most part, it's exactly the organization solution I needed. Plus, the shelves look a lot better than staring at a pile of products on the floor every day, trust me. If I ever do find the space in my budget to add some fancy West Elm shelves to either side of my vanity area, I know these bamboo shelves will still be holding up well enough to provide storage in a walk-in closet or kitchen pantry. For now, though, I'm not in a hurry to switch things up… other than maybe adding a new container or two to the shelves.