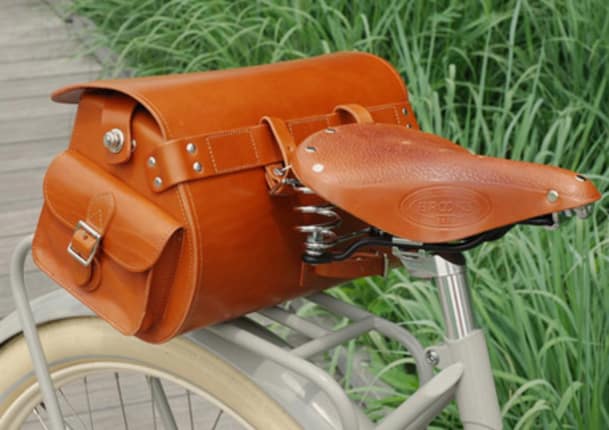 From helmets and hooks to tech products and bike bags, we've scoured our favorite shops in Marketplace to bring you a list of must-have bike gear for the summer season.
Gadgets & Tools
Public
One of our favorite go-to retailers for Euro-inspired bikes, this San Francisco bicycle and gear company offers a wonderful selection of bright bikes and cool extras. If you are a city-dweller with no bike storage, the Leonardo Bike Hook will come in handy as a discreet and useful solution for storing your bike. $15
BioLogic
Started by a collection of artists, engineers, programmers and product designers from all around the world, Biologic is dedicated to creating innovative new bike-related products. Shown here: The CycleTunes Speakers - a personal speaker system for your bike that connects to your iPhone, iPod or MP3 player. $49.99
Itunes
Apps continue to improve the functionality of our lives in all kinds of ways. When it comes to biking, look no further than the BikeBrian app, which delivers GPS mapping, speed, distance elapsed time and much much more. Free!
Organic Bikes
A family owned bicycle shop, founded in 1973, Organic Bikes seeks to help people re-think the way bike products are manufactured and recycled. They have a nice green-centric selection of goods, like this compact Multi-tool that includes hex wrenches, Philips and flathead screwdrivers and more. $7.49
Classic Accessories
Adeline Adeline
A good shop for those who want to rediscover "the romance" of cycling, Adeline Adeline has a nice collection of timeless bike accessories. Shown here: the Glenbrook Hold-all, first produced by Brooks in the 1950's. $495
Rolling Orange Bikes
This Brooklyn-based bike shop is on a mission to introduce Dutch cargo and city bikes to American streets. They have a great collection of stylish bicycle gear, like this Yakkay Pairs Helmet and Cover for $160.
Linus Bikes
This bicycle shop, based out of Venice, CA wants to make you feel like you are in an old French movie. Their inventory is full of timeless bikes and accessories, like the waxed canvas and leather Market Bag. $139
The Classic Bicycle Shop
With early 1900's European-style bike designs and period accessories, the Classic Bicycle Shop certainly lives up to its name. The Dyno Light Set, for $75 would make a smart addition to any wheeler.