8 of the Best Bike Storage Solutions You Can Buy Now
We independently select these products—if you buy from one of our links, we may earn a commission. All prices were accurate at the time of publishing.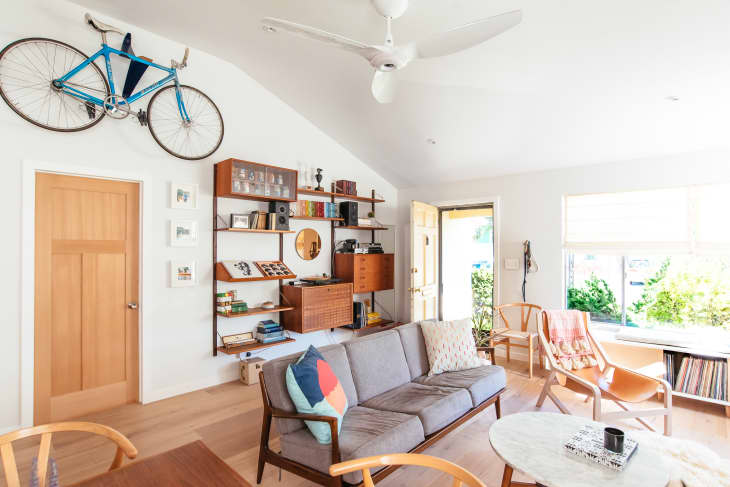 If you live in a city, opting out of traffic jams and overcrowded trains for life in the bike lane is seriously tempting—especially when you're trying to stay socially distant. More and more U.S. cities are building bike lanes and actively trying to grow a more bike-friendly culture, prompting commuters to view their bikes as necessities rather than luxuries. This trend, while positive, comes with a catch-22: Bikes are incredibly practical in cities, but city dwellers are lacking in space to store bikes. To help solve this problem, we've rounded up our favorite indoor bike storage solutions, from shelves to hooks and everything in between.
Delta Cycle Leondardo Da Vinci Bike Hook
Simple and reliable, the Leonardo is a favorite among the bike crowd. The top wheel hooks onto the handle, and a second piece is included to keep the bottom wheel from scuffing up your wall. It's nothing fancy, but it's highly effective—and at a great price, too.

Buy: Delta Cycle Leonardo Da Vinci Bike Hook, $19.99 $14.21 from Amazon
Follow Topics for more like this
Follow for more stories like this
StoutMax Heavy Duty Bike Hooks
The least invasive bike storage solution, these hooks are seriously heavy duty and perfect for hanging your bike from the ceiling or the wall—your choice. Each hook is made of steel and finished with a non-slip grip that protects your bike from marks. And again, the price can't be beat.

Buy: StoutMax Heavy Duty Bike Hooks (pack of 8), $16.97 from Amazon
Hornit CLUG Bike Clip
Touted as the "world's smallest bike rack," the CLUG mounts to any surface and is available in a range of sizes to accommodate most bikes. What you see is what you get here—this little clip is the only piece, and it latches onto one of the wheels, no other hardware necessary.

Buy: Hornit CLUG Bike Clip, $19.95 from Amazon
Delta Cycle Pablo 2-Bike Storage Rack
Have two bikes you need to store? Check out this option from Delta Cycle, which has enough room for two. Not only does it include a small shelf for accessories and tools, but it can also be folded down when not in use, making it a perfect inconspicuous choice for small spaces.

Buy: Delta Cycle Pablo 2-Bike Storage Rack, $40 from REI
Loma Living Burnside Bike Rack Shelf
Looking for something that can actually double as a piece of decor? If you're willing to shell out a little extra, this mahogany shelf found on Huckberry is well worth a look. Easy to assemble and use, it has enough room to store your helmet or lock along with the bike. Huckberry also sells these bike sticks, another unique and attractive option.

Buy: Loma Living Burnside Bike Rack Shelf, $110 from Huckberry
Racor Pulley Lift
This pulley system solution may look complicated, but it's actually quite easy to assemble and use. All it involves is attaching the hooks onto opposite ends of the bike and pulling the ropes, and in no time at all your bike is hanging from the ceiling. It might not be as convenient as other options, but it works well if you truly have no floor or wall space to spare (and want to have some fun).

Buy: Racor Pulley Lift, $40 $29.68 from Amazon
Feedback Sports Velo Wall Bike Rack
This sturdy wall rack is versatile and inconspicuous, and mounts your bike to the wall in a way that keeps the wheels off and the walls clean. It features rubber arms to ensure your bike's finish is protected, plus the arms can be adjusted for any type or size bike. Even better? It's super easy to mount, and holds up to 70 lbs.

Buy: Feedback Sports Velo Wall Bike Rack, $36 from REI
Twonee Copenhagen Bike Rack
Who knew a pair of small poles sticking out of the wall could look so good? This storage solution from Etsy shop Twonee is sleek and visually interesting—ideal for minimalist spaces. Because it's so simple, it's also extremely versatile, and can be used for any type bike (or skateboards or snowboards!). It's available in two lengths and four colors.

Buy: Twonee Copenhagen Bike Rack, $48 from Etsy