This Popular Bread Knife Is Perfect for Summer Vegetables — and Over 60% Off
We independently select these products—if you buy from one of our links, we may earn a commission. All prices were accurate at the time of publishing.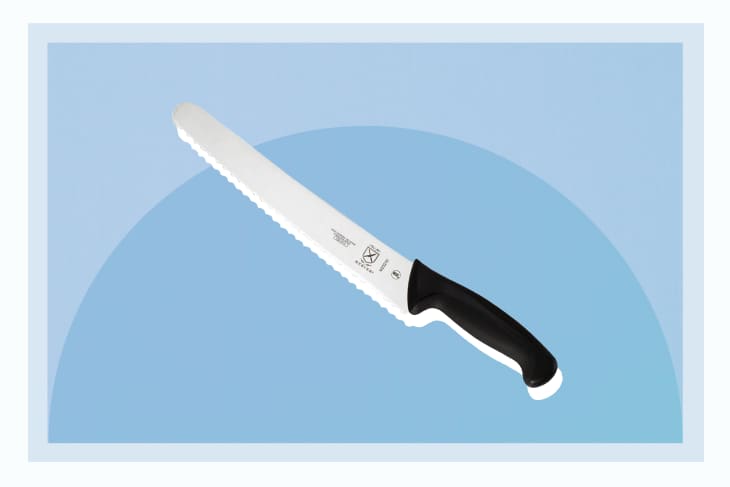 What does summer taste like to you? If it involves juicy tomatoes, steamed mussels with crusty bread or strawberry shortcake served on fresh biscuits, there's one essential piece of equipment you'll need: a serrated bread knife. Anyone who's ever squashed a perfectly ripe tomato or flattened a baguette knows that it's not only incredibly frustrating to use a dull bread knife, but in fact, it can be pretty dangerous too! So here's the good news: Mercer Culinary's 10-inch bread knife, aka our Best List topper, is on sale for just $15 on Amazon right now. Yes, that's a whopping 63 percent savings on an already affordably priced knife that Kitchn editors are obsessed with!
And we're not the only ones that love this sleek and easy-to-grip knife. In fact, it's also the top pick for the editors at Cook's Illustrated, who called it a "standout" with the fewest, widest and deepest scalloped teeth compared to other knives they tested. Additionally, the blade length is long enough to make clean, crumbless slices from big bread loaves, but the knife is also lightweight, making it easy to control when cutting soft items like juicy fruits or delicate flaky pastries like croissants.
The knife is so popular, in fact, that it's out of stock on Amazon until June 30, but if you get your order in now, you'll be able to snag this super deal before it ends. Even better? If you're a Prime member, it will ship as early as July 2, just in time to help with all your Independence Day prep! You'll be well equipped to slice through BLTs for a picnic, cut even slices of pineapple to char on the grill and create beautiful rings of tomatoes for Caprese salad or burgers. Not to mention, it's perfect for splitting buns for hoagies and cutting up summer sheet cakes into perfect, intact squares. Once summer wraps up, your knife can slice through homemade sourdough loaves to accompany hearty soup dinners and banana bread like a total pro!
Can you tell we love this thing? Better get yours before this deal ends!