These Are the 15 Best Cities to Move to If You Want to Save Money
We
independently
select these products—if you buy from one of our links, we may earn a commission. All prices were accurate at the time of publishing.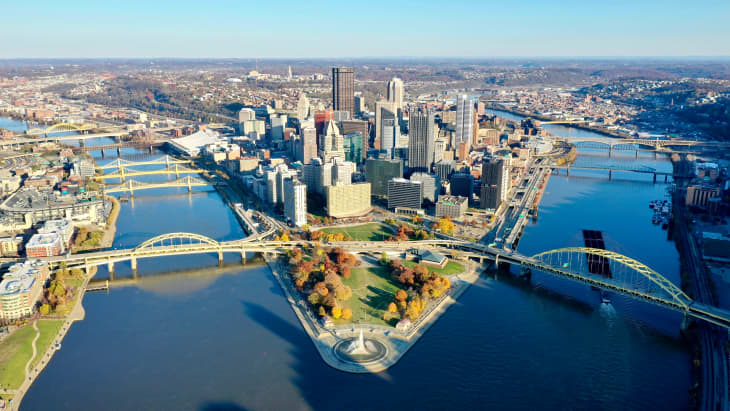 Forking over fistfuls of cash just to keep a roof overhead is pretty unsustainable. In many cities across the country, people are putting more than a third of their income toward housing, which is above what finance experts generally recommend. While the expenses that come with large cities won't be going away anytime soon, there is a way to achieve city living on a smaller budget. Some small- to mid-size cities offer all the benefits of urban life at a fraction of the price. 
In a new report, Self Financial researchers ranked major metropolitan areas to see where you should live if you want a little extra wiggle room in your bank account to sock money away. The team analyzed current data from four sources: the U.S. Census Bureau, the Bureau of Economic Analysis, Zillow, and the Department of Housing and Urban Development. Then, they gave each city a score based on housing costs as compared to household income, unemployment rates, and per capita income.
Pittsburgh nabbed the top spot on the list, boasting high income, low housing costs (only 17.6 percent of your income!), and a below average unemployment rate. The last spot on the list—Oklahoma City—isn't half bad, either. Housing costs are only 19.1 percent of your income, and the unemployment rate is also below average.
These cities turned out to be the 15 top options to move to if you want to save money.
Score: 83.20
Real per capita personal income: $49,904
Median housing costs as a percentage of household income: 19.1%
Historical unemployment rate: Below average
Median home price: $152,392
Fair market rent for a two-bedroom: $906
Score: 83.21
Real per capita personal income: $55,623
Median housing costs as a percentage of household income: 19.2%
Historical unemployment rate: Above average
Median home price: $155,360
Fair market rent for a two-bedroom: $849
13. Denver-Aurora-Lakewood, CO
Score: 83.27
Real per capita personal income: $57,109
Median housing costs as a percentage of household income: 22.3%
Historical unemployment rate: Significantly below average
Median home price: $436,125
Fair market rent for a two-bedroom: $1,566
Score: 83.53
Real per capita personal income: $51,871
Median housing costs as a percentage of household income: 19.7%
Historical unemployment rate: Below average
Median home price: $206,311
Fair market rent for a two-bedroom: $992
11. Buffalo-Cheektowaga-Niagara Falls, NY
Score: 84.44
Real per capita personal income: $49,571
Median housing costs as a percentage of household income: 18.5%
Historical unemployment rate: Below average
Median home price: $170,794
Fair market rent for a two-bedroom: $843
10. Milwaukee-Waukesha-West Allis, WI
Score: 85.19
Real per capita personal income: $56,024
Median housing costs as a percentage of household income: 20.2%
Historical unemployment rate: Below average
Median home price: $203,884
Fair market rent for a two-bedroom: $922
9. Nashville-Davidson-Murfreesboro, Franklin, TN
Score: 86.58
Real per capita personal income: $56,194
Median housing costs as a percentage of household income: 20.2%
Historical unemployment rate: Below average
Median home price: $276,110
Fair market rent for a two-bedroom: $1,136
8. Indianapolis-Carmel-Anderson, IN
Score: 87.41
Real per capita personal income: $55,127
Median housing costs as a percentage of household income: 19.1%
Historical unemployment rate: Below average
Median home price: $176,777
Fair market rent for a two-bedroom: $946
Score: 87.48
Real per capita personal income: $53,984
Median housing costs as a percentage of household income: 19.2%
Historical unemployment rate: Below average
Median home price: $201,600
Fair market rent for a two-bedroom: $978
Score: 88.26
Real per capita personal income: $53,095
Median housing costs as a percentage of household income: 18.9%
Historical unemployment rate: Below average
Median home price: $281,174
Fair market rent for a two-bedroom: $1,163
Score: 88.97
Real per capita personal income: $57,243
Median housing costs as a percentage of household income: 18.7%
Historical unemployment rate: Below average
Median home price: $177,745
Fair market rent for a two-bedroom: $905
Score: 89.83
Real per capita personal income: $56,678
Median housing costs as a percentage of household income: 18.7%
Historical unemployment rate: Below average
Median home price: $182,045
Fair market rent for a two-bedroom: $865
3. Grand Rapids-Wyoming, MI
Score: 89.89
Real per capita personal income: $51,161
Median housing costs as a percentage of household income: 17.7%
Historical unemployment rate: Below average
Median home price: $215,184
Fair market rent for a two-bedroom: $962
2. Minneapolis-St. Paul-Bloomington, MN-WI
Score: 90.07
Real per capita personal income: $56,886
Median housing costs as a percentage of household income: 19.2%
Historical unemployment rate: Significantly below average
Median home price: $289,170
Fair market rent for a two-bedroom: $1,214
Score: 92.84
Real per capita personal income: $58,117
Median housing costs as a percentage of household income: 17.6%
Historical unemployment rate: Below average
Median home price: $156,026
Fair market rent for a two-bedroom: $890