The 3 Very Best Cleaning Tips of 2019, According to Our Readers
We independently select these products—if you buy from one of our links, we may earn a commission. All prices were accurate at the time of publishing.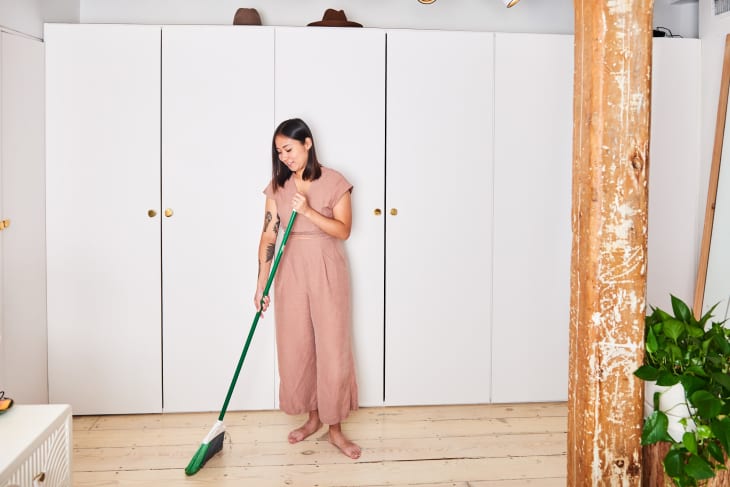 I'm going to pull back the curtain a bit here and say something that might be obvious, curtain or not: At Apartment Therapy, we try to publish articles with tips, tricks, tutorials, and stories that we think will not only pique our readers' interests, but also add value to their everyday lives. A lot goes into figuring out the best that we can offer, but it's challenging because even with data-backed guesses, you never know for sure what content will take off. After publishing, however, we get insight that tells us what our audience has eaten up.
Follow Topics for more like this
Follow for more stories like this
If imitation is the sincerest form of flattery in the physical world, sharing is the sincerest form of appreciation in the digital world. This year, three cleaning tips in particular got shared all over social media, forwarded between friends, and inspired hundreds of comments.
1. Flip your rugs upside down, over and over, to clean them really thoroughly.
From: The Effective (and Totally Free) Rug-Cleaning Secret I Learned from My Dad

In this article, Geraldine Campbell talks about some of the beautiful rugs passed down to her from her family, and how she was taught to care for them: Her father is a rug lover and his unique rug-cleaning practice of flipping the rug upside down and vacuuming the underside gets every crumb and speck of dirt out from any type of weave. (Thoroughly getting dirt out of rugs is one of the best ways to preserve them.) It's one of those hacks that is gross and satisfying because you see how much dirt remains even when you've vacuumed and you think your rug is clean.
2. Put an "Eh, I'll wear it eventually" box inside your closet to painlessly declutter your clothes.
From: I Added One Tiny (Free) Thing to My Closet and Instantly Started Decluttering My Clothes

This is one of those tips that's utterly ingenious in its simplicity. Olivia Muenter describes how she put a box in her closet and, whenever she tried anything on that she ended up not wanting to wear, into the box it went. When the box was full, she donated or sold the clothing and returned the empty container to her closet. This tip doesn't require you to set aside any chunks of time to conquer the monumental task of sorting through your entire wardrobe, and your decluttering efforts of each item are supported by in-the-moment proof that it doesn't make you feel your best.
3. If you don't have a linen closet, store extra sheets folded under the mattress.