The Best College Towns to Move to (If You're Not a Student)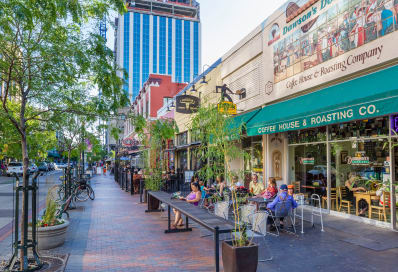 (Image credit: Ian Dagnall / Alamy Stock Photo)
As the world heads back to school, it's hard to fight off the romantic notion of going back to the ol' alma mater yourself—to put down roots in the no-doubt charming burg it calls home. You know, as a "townie." Going back to small town living probably doesn't sound too appealing now that you're a real adult. Thankfully there are many small cities that host top institutions, and, as luck would have it, many of them have more to offer than just classes and student unions. From inventive dining options, to world-class music, to ample outdoor recreation, these five college towns tick all the boxes for non-student residents.
Athens, Georgia
Median home value: $170,800
Median monthly rent: $1,200
Athens isn't just home to the University of Georgia. It also has long been a music town, and that shows no sign of slowing down: If anything, it's so well-integrated in local life that the city puts on walking tours of sites that figure into its rich musical history. But the music scene—which produced the likes of REM, Of Montreal, and the B-52s—is only a small part of Athens' rich cultural (or, perhaps, counter-cultural) ecosystem: It also supports a popular roller derby league, the Classic City Roller Girls, a world-class art museum run by the University of Georgia, and more soul food than you can shake a greasy spoon at. Vegetarians can even get in on the fun thanks to diners like The Grit, which specializes in translating Southern comfort food for a meat-free palette.
(Image credit: Sean Pavone/Shutterstock)
Birmingham, Alabama
Median home value: $139,400
Median monthly rent: $1,095
Recently named one of the "New York Times"' 52 Places to Visit in 2018, the home to the University of Alabama at Birmingham is a rising star in the middle of a massive reinvention. Look no further than the Avondale neighborhood—known as Birmingham's Brooklyn. The area is flush with coffee roasters and craft brewing outfits and Railroad Park, a former industrial zone-turned-hangout that hosts regular food truck rallies. But locals—including the students and staff of the University of Alabama at Birmingham—are as likely to grab an after-work drink as they are to mingle and climb at one of the city's bouldering gyms—including Birmingham Boulders, the largest indoor climbing facility east of the Mississippi.
(Image credit: Charles Knowles/Shutterstock)
Boise, Idaho
Median home value: $266,600
Median monthly rent: $1,400
The home of Boise State University, Idaho's largest college, seems tailor-made for outdoorsy types: Its Ridge to Rivers initiative maintains almost 200 miles of multi-use trails that run the foothills of the nearby Rocky Mountains, and some of America's grandest national forests (not to mention Yellowstone) are just a skip and a hop away. But Boise's not all grit and granola. Its residents entertain themselves just as people do anywhere in America—with avant garde puppet theater and indie rock. Treefort Music Festival even has a killer ticket discount for residents, a group that appears to be growing—Forbes declared Boise the fastest-growing metro area in the States earlier this year.
(Image credit: marekuliasz/Shutterstock)
Fort Collins, Colorado
Median home value: $379,700
Median monthly rent: $1,725
Despite a housing shortage that has driven prices into steep territory, Fort Collins has a lot to offer. In addition to the obvious—boundless recreational opportunities in the surrounding mountains, cultural events put on by Colorado State University—it's something of a mecca for two popular pastimes: bike riding and beer drinking. Abundant bike lanes and a local bike-sharing program make human-powered commuting a breeze, and craft beer superstars New Belgium anchor a robust brewing scene. The cherry on top is Fort Collins' school system—two high schools in the Poudre District (which covers the whole town) ranked among the best in the state.
(Image credit: David Harmantas/Shutterstock)
Iowa City, Iowa
Median home value: $220,100
Median monthly rent: $1,300
Wary of the isolation that sometimes comes with small-town life, a group of Iowa City creatives forged a "wingman" project—a literal buddy system dedicated to jumpstarting newcomers' networking prospects. For literary types, there might be enough to do in Iowa City as to never need a wingman: In addition to local book and writing festivals, there are plenty of chances to catch big-name writers passing through town, usually for events put on by the University of Iowa's Writers' workshop. Another perk of life in Iowa City is its excellent doctor-to-patient ratio—that means an efficient local healthcare system with a surplus of care options.
(Image credit: Daniel Grill/Tetra Images)
Portland, Maine
Median home value: $302,500
Median monthly rent: $2,175
Thanks to an abundance of fresh, local seafood, plus produce from the surrounding farm country, Portland has long been a foodie's paradise. Bon Appétit made it official this year, naming the home of Southern Maine University the magazine's City of the Year after a season of particularly notable openings. Combine that with a happening craft beer scene and a rising demand for natural wines, and you've got plenty of good reasons to brave those long, Maine winters. Plus, while the weather holds, Portland's got plenty of hiking and biking trails to ease the digestion.