12 Multipurpose Cribs With Built-In Changing Tables
We
independently
select these products—if you buy from one of our links, we may earn a commission. All prices were accurate at the time of publishing.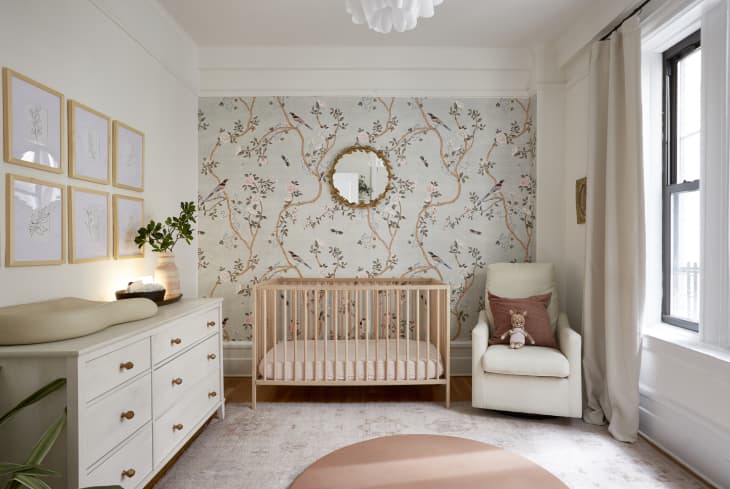 Decorating a nursery can be very fun. From picking out a theme to selecting the perfect furniture, setting up this special space only gets you more excited for the start of parenthood. But it can also be challenging, especially if you're working with a tricky floor plan or a small space. Arguably the most important part of any nursery space is the crib, which is why you might want to consider a crib with a built-in changing table. Depending on the space, these crib combos can be a cost-effective, space-saving solution because you're getting built-in storage, a changing table, and, of course, a sleep space all in one.
If you're considering buying a crib with a built-in changing table, here's what to know about this multifunctional piece of furniture, and if you're sold on the idea, 12 picks to lead you on!
Why opt for cribs with changing tables?
By picking up one of these combo pieces, you're essentially getting a crib, changing table, and small dresser all in one, so you'll no longer have to find space for these individual pieces. You will hopefully then have room for more highly-recommended (and some would even say essential) nursery items, like a glider chair.
Many of these crib-and-changing-table pieces are also convertible, which is a plus. Designed to grow with your baby through different stages of childhood, they can transition to both toddler and big kid beds with a quick conversion kit and a little elbow grease. (Note: these kits are something you can buy later down the line, but many also come pre-equipped with everything you'll need.)
When is a crib with a built-in changing table NOT the best option?
A 2-in-1 crib and changing table might not be a good option for your nursery if you have a short wall. Most cribs measure around 53 inches wide, or about 4.5 feet wide. Many cribs with built-in changing tables and dressers are considerably longer, around 72-74 inches wide, or a little over 6 feet wide. Considering you also need walking and standing space on the changing table side, you might not have room for an all-in-one piece like this. Make sure to measure your wall space first!
Additionally, consider the size of the changing table. Babies grow so fast, and some built-in changing table pads are slightly smaller than you'd get from a standalone changing pad, like Keekaroo's Peanut, so you might lose some functionality as your baby gets bigger. You can always convert that changing table space to a storage space for diapers, lotions, or crib sheets, so it's not a complete loss, but something to consider!
Convinced this crib combo is for you? We've rounded up 12 excellent crib and changing table combos for you to peruse. Here's to setting up the perfect nursery, whether it be big or small!