This Diffuser is Just What You Need to Relax this Holiday Season—And it Has Over 9,000 5-Star Reviews on Amazon
We independently select these products—if you buy from one of our links, we may earn a commission. All prices were accurate at the time of publishing.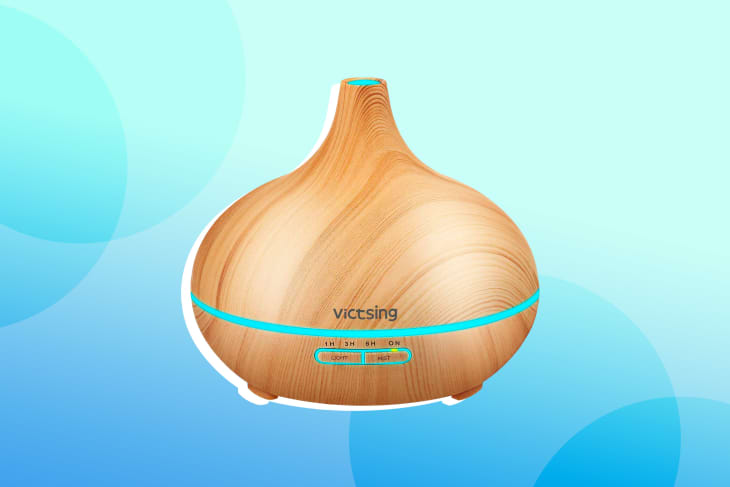 The holiday season is here, and although this time of year can be lots of fun, it definitely comes with its fair share of stressors. From budgeting and traveling to navigating complicated emotions and trying to get a month's work done in three weeks, this isn't an easy time by any means. So it's good to take care of yourself, whether that means saying no to party invites or watching corny Christmas movies on the sofa all weekend.
Follow Topics for more like this
Follow for more stories like this
We like to keep an eye on Amazon's Movers and Shakers section, and recently found a product that could become part of your self-care ritual: an essential oil diffuser. While essential oils aren't new, they're worth revisiting this time of year, and this diffuser model is particularly noteworthy. It's budget-friendly at just under $30, has a stylish wood finish and curved shape, and even has over 9,000 5-star reviews on Amazon.
If you're interested in aromatherapy, a diffuser is your go-to tool. Need a quick mood boost? Diffuse lemon or peppermint oil. Having trouble falling asleep? Use a few drops of lavender or bergamot oil. Getting a cold? Cinnamon oil can clear sinuses. Not only that, but this diffuser is also a cold mist humidifier, so it'll help combat the dry winter air in your space.
"I own a couple different diffusers (double the cost of this one) and this is by far my favorite. It is beautiful to look at and puts out a great aroma that will fill a room," says one happy customer.
From a performance perspective, this diffuser lasts up to 10 hours with a water tank capacity of 300ml. It has two mist options (high and low) and four timer options, though it will automatically shut off when it runs out of water. It also lights up in seven different colors, with a dim and a bright option, that really amp up the soothing vibes. (Although if you prefer to use it without the light, that's possible too.) Even better? It runs quietly.
"You can hear a small sound of water bubbling but it's so faint that it's kind of relaxing. I have it in my bedroom and noticed (and hopefully it continues) that I have a better night's sleep," another reviewer mentioned.
And if you're new to essential oils, the comments are full of great suggestions. "I use this in the summer with lemongrass essential oil to keep mosquitoes at bay, and during the winter with lavender essential oil to keep the spirits high," one reviewer wrote.
The "combo of peppermint, lavender, and eucalyptus makes my bedroom smell fantastic. It helps me sleep as my nasal passages don't feel dry," according to another reviewer.
Whether you're buying as a gift for yourself or someone else, this diffuser is a great choice—and if you're in need of essential oils, the VicTsing brand has you covered there too.