We Found a Lighter That's Flameless, Rechargeable, and Under $20 on Amazon
We independently select these products—if you buy from one of our links, we may earn a commission. All prices were accurate at the time of publishing.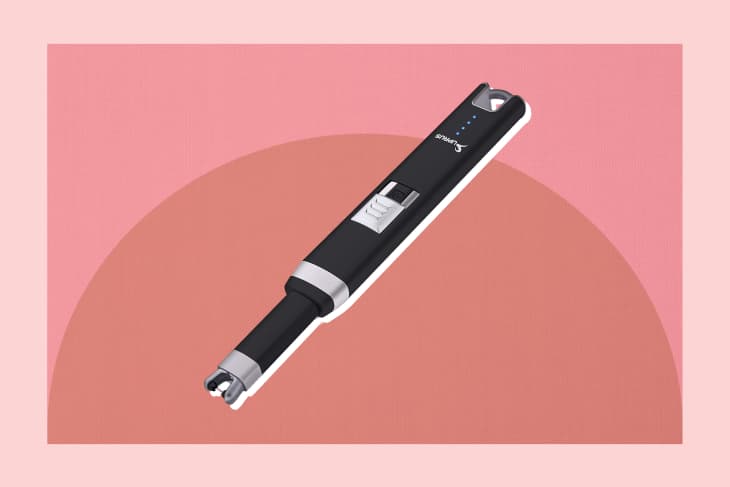 If there's one household product you probably don't think twice about, it's the humble lighter. It's simple, it's reliable, it's not exactly the safest thing to have lying around, yet pretty much everyone has one. But what if we told you there was another way? What if we told you there existed a flameless lighter? That's right, dear reader: There is such a thing, and it's available on Amazon for less than $20.
Follow Topics for more like this
Follow for more stories like this
So how does it work? Rather than using fuel, the Suprus lighter is powered by batteries, which can be recharged using any USB cable. It's capable of being used more than 1,000 times per charge, and only requires 1-1.5 hours to get a full charge. But its most notable feature is how safe it is. Unlike other lighters that have an open flame, this one does not—and the spark it produces is much smaller than a typical lighter flame. It's also child-resistant, with a slide-out tip and auto shut-off after 7 seconds.
Another great benefit? That tiny spark means that it's windproof and waterproof, making it a huge asset to have outdoors. Use it while camping or cooking outside—it's ideal for lighting up the grill or getting a campfire going. "We got it mainly for camping and lighting charcoal for the outdoor grill, it works great," according to one reviewer. "I was tired of having to always get new lighters when the fuel runs out on traditional lighters."
"Bought it for my husband for when we camp," said another. "Always an issue when lighting the grill or campfire when it's a little windy. Not with this product!!"
Some reviewers noted that it's the most reliable for smaller flames, like candles. According to one person, "It actually lights my candle wicks faster than my lighter does and doesn't melt the surrounding wax to do it, nor have flames coming back up toward my hand while trying to light them." Not only that, but that reviewer also "put it to the test by lighting it in front of a fan, blowing as hard as I could, etc. and it still worked."
Color us intrigued. As avid candle lovers, we're definitely excited about this tool. And it turns out there are tons of other options out there, too—even Anthropologie has a USB lighter, which costs $30 and comes in four stylish (of course) colors. Other retailers that sell them include The Grommet ($30), Food52 ($30), and CB2 ($29.95). Would you make the switch to a flameless lighter?