Best Green Gift Shops Online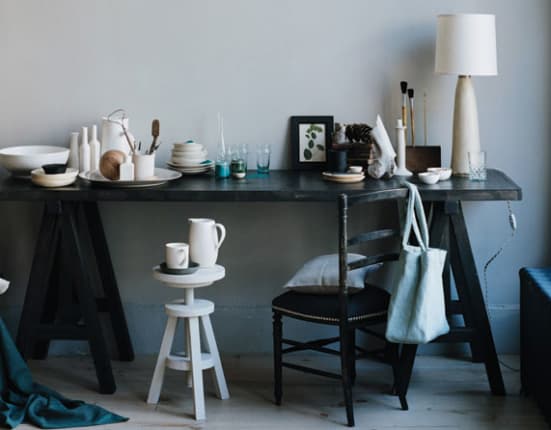 If you're trying to green your gift list this year, you're in luck — there's no longer any shortage of gift shops for the eco-conscious consumer. Every year it gets a little easier to find stores that focus on durable, sustainably produced goods that are designed to avoid the landfill. Here are ten of our favorites.
Canoe
Located in Portland, this shop is a resource for "simple, beautiful, and functional objects that can be used and enjoyed everyday." Their web shop is the kind of place where it's difficult to find something you wouldn't want to give.
Brook Farm General Store
This Brooklyn-based store just launched a new e-commerce site. Their inventory of timeless utilitarian objects is easier to find online now, and there are plenty of good gift ideas, including blankets, table linens, pitchers, and well crafted kitchen tools.
Canvas
This SoHO shop is the brainchild of Ochre founder Andrew Corrie. Like its sister shop, Canvas has a highly edited selection of beautiful modern products, and all of them are fair trade and/or sustainable. It's a little more affordable than Ochre, with a focus on gifty items.
Twine
This web shop has an aesthetic that's bright, colorful, and playful — a mix of vintage finds and contemporary pieces. They abide by a basic green philosophy: "simple things, honest materials, made well." Expect to find a unique selection of artwork, accessories, and textiles.
Renegade Handmade
If you've got any hipsters on your gift list, this Chicago-based shop is a good resource for handmade wallets, posters, and prints. They feature the work of over 300 artists in their online shop, and prices are affordable.
Branch
San Francisco-based Branch vets all their products for sustainability — you'll find lots of handmade, biodegradable, compostable, and fair trade goods in their online shop. Styles are modern and there are plenty of smaller, gifty items for all budgets.
Green Depot
This green home improvement store has locations along the East Coast and in the Midwest, in addition to a good e-commerce site. Beyond your basic lightbulbs and green cleaners, they have a nice selection of eco gifts for men, women, and children.
HerbTrader.com
This is a comprehensive resource for green basics. They have over 8000 natural and organic products, including household cleaners and candles, spices, seasonings and kitchen utensils, and personal care products.
SupermarketHQ
This aggregator site carries modern handmade goods by independent designers. Like Etsy, it connects sellers with buyers, but it's a much smaller site with a more curated selection. Shop here for home accessories, jewelry, and artwork.
Etsy
As one of the largest online retailers of handmade and vintage goods, Etsy is a huge resource for artist-made objects, craft supplies, fabrics, and vintage housewares. They have hundreds of thousands of online gift shops, spanning over 150 countries.
Photo: Canvas