This Extra Large Heating Pad Soothes Aches and Pains—And It Has Over 5,000 5-Star Reviews
We
independently
select these products—if you buy from one of our links, we may earn a commission. All prices were accurate at the time of publishing.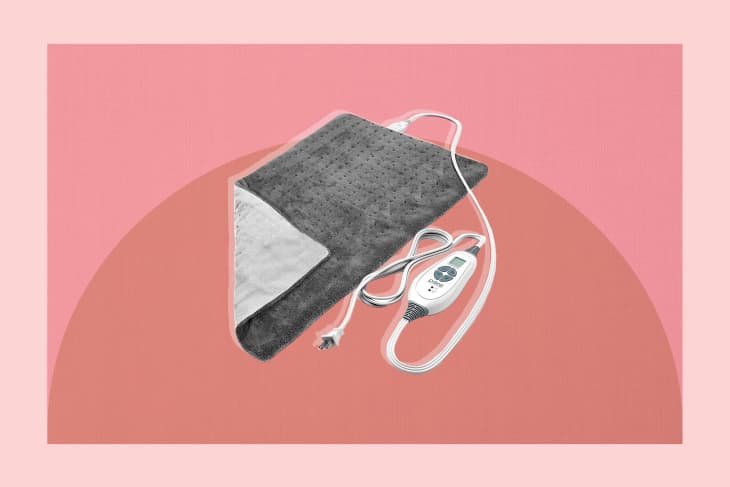 If you've ever had post-workout muscle pain, joint stiffness, or menstrual cramps, then you know how debilitating body aches can be. One popular solution to treating those pains is a good, old-fashioned heating pad—and there's one for just about every part of the body, from shoulders to the lower back. But what if you want one that can cover a wider area of your body and be used for just about any body part? Allow us to introduce you to the heating pad to end all heating pads: the PureRelief XL.
With over 5,000 5-star reviews, the PureRelief XL Heating Pad from Pure Enrichment is a solid choice for treating sore muscles and body pains. It measures 12″x24″, making it suitable for treating sore muscles in your back, shoulders, abdomen, legs, and arms. It has a soft microplush surface that heats up in seconds and actually feels cozy against the skin, making it feel more like a heated blanket than a heating pad.
It's also flexible, so you can wrap it around your limbs to target certain areas, but large enough to lay flat to heat your back. It needs to be plugged into an outlet, but the 9-ft cord is long enough so you can relax with it on your sofa or bed, even if you're not right next to an outlet. What really makes it stand out are its six temperature settings, ranging from about 105 to 140 degrees. You can even spray water on it if you prefer to treat yourself with moist heat.
"I cranked it up to its highest setting of '6' to get started right away and the warmth started easing up my muscles within minutes," said one reviewer who wrote a lengthy review about her purchase. "This wonderful heating pad gets PLENTY hot and then some. I've been cranking it all the way to "6" and then finding I need to lower it to be comfortable, so getting and keeping it warm enough in the winter is most definitely not a problem!"
It's worth noting that the heating pad has a built-in safety feature that turns the heat off after two hours to prevent overheating (especially if you fall asleep with it on). But if you're not worried, you can use the Stay-On feature to keep the heat going.
"I have chronic pain and use a heat pad on a daily basis, so I've gotten rather picky about what I like," said another reviewer. "This one checks all of the boxes! It's soft and flexible, so it's always comfortable to lay on, it doesn't get bent out of shape like some of the hard plastic ones. It has a large surface that can cover my whole back at once. It has a multi temperature control, so I can set the level of heat that I want and I can choose if I want it to automatically shut off in 2 hours or I want it to stay on until I turn it off."
Many reviews also make note of the excellent customer service. In the event that the heating pad fails, malfunctions, or stops heating, Pure Enrichment offers a 5 year warranty on your purchase.