The Affordable, Cable-Free Alternative to Watch All Your Favorite Classic (and New!) Holiday Movies and Shows In One Spot
Apartment Therapy received compensation for this post, which was written and edited independently by our editorial team.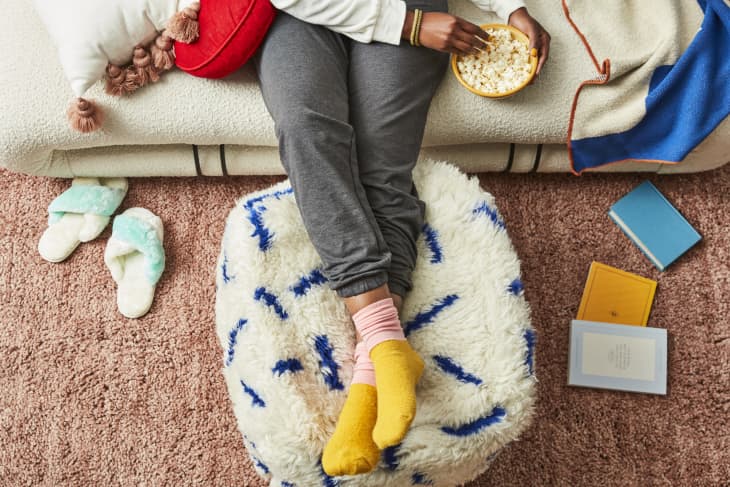 As much as people like to hate on cheesy holiday movies, there's something undeniably comforting about them. Whether you're watching a classic that you've already seen 100 times or a formulaic holiday romance with the most predictable plot, their familiarity and over-the-top festive tone makes these movies a mandatory seasonal activity. If you have cable, the nice part is that pretty much right after Halloween, tons of channels start scheduling fan favorites like "The Polar Express" and "A Christmas Story" at all hours of the day. The not-so-fun aspect is that if you forget to record them, you're stuck sitting through commercials or viewing them at inopportune times.
Our solution? Just get a Hulu subscription to watch thousands of shows and movies with plans starting at $7.99 per month. You can also add HBO and Starz to your Hulu subscription for an extra $14.99 a month and $8.99 a month, respectively. You can even get a Disney+ bundle for $13.99, which gives you access to the Disney archive (including fan-favorite holiday movies like "Home Alone") and Hulu's offerings. There are more picks to choose from than ever, especially in the holiday genre, so let us help you out. Here are some of the shows and movies available on Hulu to help get your streaming marathon underway.
1. "Dr. Seuss' How the Grinch Stole Christmas"
Some things never get old, including this comical and heartwarming adaptation of the Dr. Seuss classic. Your young relatives might've seen the cartoon version, but it's worth acquainting them with Jim Carrey's eccentric performance. Your heart will grow three sizes from all the nostalgia.
You've watched and rewatched, read, and reread every possible version of so many Christmas staples, and now you want something new to feast your eyes upon. Enter: "Santa Games." This is no centuries-old tale, and this lighthearted comedy will serve as a good palate cleanser in between the more traditional stuff. It follows the story of a dismissed mall Santa and the chaotic competition that ensues to find his replacement. This one is no snoozer!
3. "Menorah in the Middle"
It's the archetypal holiday rom-com plot we all know and love: Woman goes back to her hometown, gets reunited with an old flame, and feels the spirit of the season in the process. Don't even lie — you eat it up every time. "Menorah in the Middle" is a nice departure from the Christmas romances that typify this genre, though, as it follows a Jewish protagonist looking to revive her family's struggling business.
Whether or not this Bruce Willis action thriller is actually a Christmas movie is a highly debated topic. You're already planning to snuggle up on the couch, though, so what's the harm in throwing it into the queue? It's a great pick-me-up for that time in the day when everyone's just eaten and dozing off.
Featuring a star-studded cast, "Deck the Halls" is a great choice if you're away from your own family for the holidays. Set in the suburbs, it's likely to bring back memories of laughter-filled Christmases past, no matter how much of a killjoy Matthew Broderick's character is. And sure, this season is all about being kind and showing gratitude, but a little neighborly rivalry might be just the trope needed to spice things up. Ultimately, this movie serves as a great lesson on prioritizing what's important and dealing with difficult personalities — something we can all use in the months ahead.
Let's be real, the aforementioned Hallmark-style romances tend to focus on straight couples' love stories. "Happiest Season" infuses the lot with some much-needed representation, as it tells the story of a woman who's meeting her girlfriend's parents for the first time — but the parents don't know that her girlfriend is a lesbian and thinks she's just a friend who needs somewhere to celebrate during the holidays. It sounds super tense, but this flick actually has plenty of entertaining moments throughout its nearly 2-hour run time. Your friends will delight in its accurate portrayal of modern love stories.
Sometimes, all you need is a feel-good animated movie to take your mind off the chaos of shopping, cooking, and hosting guests. "Arthur Christmas" is a fun option to watch with the kids. Although this movie isn't new, it's not as well-known as "The Nightmare Before Christmas" or "Frozen," so you won't be bored going in. Chronicling a heroic tale of determination, this movie follows a boy who tries to save Christmas by getting a present from Santa to a forgotten child.
Movie night with the besties usually entails more chatting than watching, and there'll be plenty to comment on when viewing "The Family Stone." It stars Sarah Jessica Parker as Meredith, a straight-laced city girl who's going to Connecticut to meet her boyfriend's much more lax parents. Personalities will clash and relationships will shift as this emotional yet cheerful spectacle unfolds. Household drama is always cause for gossip and intrigue, so don't forget to grab the popcorn!
Those who can't get enough of Kevin McCallister and his top-tier pranks in "Home Alone" will likely also enjoy "Snow Day." As the title suggests, school gets cancelled because of heavy snow for a teen boy, his little sister, and other students, who all set out to cause some trouble in an effort to extend their mini vacation. Get the whole fam together on the sofa and reminisce afterward about your own snow-filled escapades. We suggest putting this movie on when the forecast calls for a chance of flurries.
10. "The Jinkx & DeLa Holiday Special"
Expect the unexpected from this high-voltage holiday special starring two fabulous drag queens, Jinkx Monsoon and BenDeLaCreme. These former "RuPaul's Drag Race" contenders toured the country with their live holiday show, but you can catch it in your own living room thanks to Hulu. That's right, you don't even have to leave the house to experience their antics and one-of-a-kind performances. You'll laugh, you might cry, and you'll see some of the most festive and flashy stage costumes.