Best Holiday Pop Up Shops 2010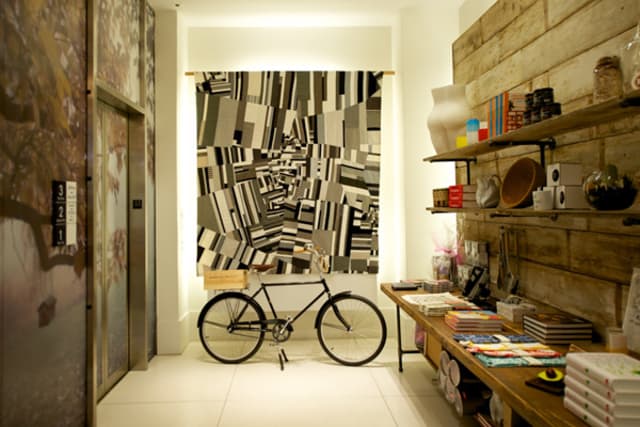 At their best, pop-up shops offer unique gifts that you won't find elseware; at their worst, they're cheesy marketing gimmicks. This holiday season has seen a flurry of new pop-ups in New York, London, and Los Angeles, as well as smaller cities like San Francisco and Portland. Here are 10 of our favorites.
The Temporium
LOCATION: 221 Brompton Road, London. OPEN: 12/9 - 12/19. THE SCOOP: Curated by British design blog, Dezeen, this pop-up shop focuses on UK designers who make everything from fashion to furniture.
Sahadi's
LOCATION: 191 Atlantic Ave, Brooklyn. OPEN: opens 11/2, no closing date listed. THE SCOOP: This Brooklyn specialty food shop has opened a pop-up gift store next to their main location. Shop for custom gift baskets and holiday treats.
Cool Hunting for Gap
LOCATION: 680 Fifth Avenue, NYC. OPEN: 11/19/2010 - 01/02/2011. THE SCOOP: Locally sourced items from NY-based companies and designers, all hand-picked by Cool Hunting's editors. Don't miss the gorgeous barnwood-clad interior from ByKenyan.
The Wired Store
LOCATION: 692 Broadway, NYC. OPEN: Now through 12/16. THE SCOOP: Three floors of tech products in all price ranges, including TVs, computers, toys, gadgets, apparel, and items for your home office.
Annie's Blue Ribbon
LOCATION: 2408 Broadway, NYC. OPEN FROM: Now through 12/24. THE SCOOP: This Brooklyn-based general store opened a pop-up shop on the Upper West Side. Shop for practical gifts under $50, like barware, cleaning supplies, kitchenware, and edible treats.
OK
LOCATION: 724 1/2 Silverlake Blvd, Los Angeles. OPEN FROM: 4/2010 - 04/2011. THE SCOOP: This Silver Lake outpost of LA-based OK has been running since April as a year long pop-up shop that will close this spring. It's a great source for unique gadgets and gifts for the home.
Sleek Identity
LOCATION: 1306 Abbot Kinney, Venice, CA. OPEN: Now through 12/5. THE SCOOP: This online shop, curated by Stefanie Gelinas, opened its first-ever temporary brick and mortar store, with housewares that are "original, intelligent and have a sense of humor."
Tweak 99
LOCATION: 8377 W. 3rd Street, Los Angeles. OPEN: Now through mid-January or later. THE SCOOP: Curated by interior designer Tara Riceberg, everything in this store is $99 or less, and it comes with free giftwrap! Shop for tabletop, home decor, and design books.
Berkely Holiday Pop-Up Shop
LOCATION: Gilman Village (10th & Gilman), Berkeley. OPEN: Now through 12/24. THE SCOOP: home decor from Trove, textiles from Ethnic Arts, artwork by Bay Area artists, as well as cookies, cheese, and holiday snacks.
Downtown Portland Pop-Up Shops
LOCATION: Downtown PDX. OPEN: Now through 12/31. THE SCOOP: For the holidays, the city filled vacant storefronts with pop-up shops from Flurry, Crafty Wonderland, Downtown Artistry, Portland Design Collective, and cloth/GOLD Factory.
Photo: Cool Hunting for Gap