Best Spring Cleaning Tips 2008Email from 5.20.08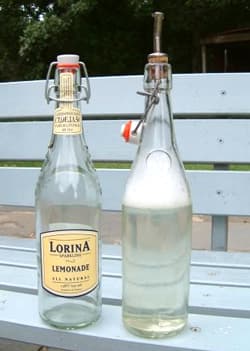 I hate clutter and dirtiness (the natural enemies of good design), and strive with Spring Cleaning not just to clean out, but also to reestablish any of our home made systems that have fallen on hard times over the winter.
So for this email, I wanted to pull together a few tips and systems that we've used in our house for a long time, and which generally incite either praise or horror among our readers.
Dishwashing System - This is the big one, because you use is so often. I recommend watering down your dish soap to 1\2 strength (at least) and using a label-less bottle for best delivery.

Here are my top picks for the year:
Handwashing System - We use natural pump soaps in the bathroom right now, but my favorite solution has always been this French public school solution. We use it in the kitchen, and it's great in outdoor showers as well.
Bathroom Bottle System - I dislike labels here so I go with professional applicator bottles in the shower and get rid of the original or store under sink. Aaron also recently found a great resource for plain labels that go with plain bottles at Debranded Home. Another good source for plain bottles is Specialty Bottle.
Window Washing System - This is a pet peeve of mine as most homes I visit have dirty windows. We wash ours at least twice a year (often before parties) and always use the magic solution: newspaper with a natural vinegar window cleaner. The newspaper really cuts the grease and acts like rag and squeegee at the same time.
Soaps and Cleaners - I like to choose the best cleaners for our home and have tried a bunch over the years. Non Toxic is the only way we roll. Here's a list of some of our top picks: