The Best Types of House Numbers for Curb Appeal, According to Real Estate Agents
We
independently
select these products—if you buy from one of our links, we may earn a commission. All prices were accurate at the time of publishing.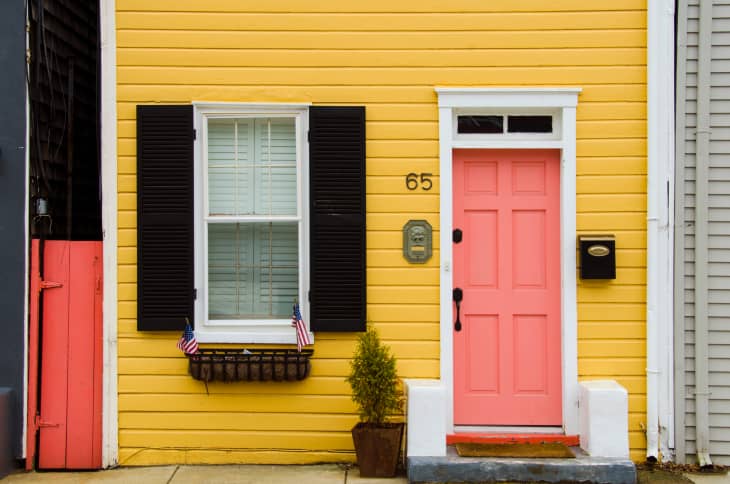 Could the right house number add up to a higher number offered by a would-be buyer?
Well, no, not exactly. But curb appeal is important for enticing buyers. So it makes sense that when sprucing up the exterior of your home, you'd want to also, well, address the house numbers attached to it. 
Ideally, you'll want an address plate or individual numbers that are large and legible enough to avoid befuddled visitors and delivery people. But you'll also want them to serve as an attractive accent for your front entry. Here, two real estate professionals weigh in on the matter.
Choose the aesthetic that works for your home
Metal, plastic, and wood are common materials for house numbers, says Shaun Martin, a real estate professional and owner and CEO of The Home Buying Company in Denver, Colorado, but you can certainly change it up. For a high-end look, there are address plaques made from brass, bronze, or aluminum, for example. "If you want something a little more unique, you can even find house numbers made from glass or ceramic," he says.
A woodland creature holding the house number in its teeth. A mermaid's fin propping up your address plaque. If it's fitting for your home's location, go for it, says Martin.
"If you live in an area with a lot of character and charm, then themed house numbers are a great way to add curb appeal to your home," he says.
Illuminated House Numbers
Do you live in a suburban or rural part of the country where it gets really dark at night? If so, the most spectacular-looking address plate ever made won't help at all if no one can see it, let alone your house.
"Illuminated house numbers are another great option for increasing curb appeal," Martin says. "Not only do they look great, but they also make it easier for people to find your home at night."
On the flip side, do you live in a city or a bustling town where your home's front stoop is lit up by a streetlight, the headlights of passing cars, or even the neon sign of the restaurant next door? You might opt for reflective house numbers instead, says Martin, to capitalize on the local light.
Finding a home for your house numbers
Unless you live in a development or an HOA that has the final say on where your house numbers must live, you've got several options for number placement depending on the size of your home and the front yard.
"The most attractive identifications I've seen are when a house number is featured on a little plaque at the end of a driveway," says Christa Kenin, real estate agent with Douglas Elliman in Fairfield County, Connecticut. "Most plaques are made of a high-quality metal and staked into the ground." 
Kenin's personal preference are address plaques with just the house number, not the street name. "It's subtle and understated, and they are often highlighted at night with uplighting," she explains.
Another popular option Kenin recommends is a custom mailbox with the house number or address. The typical look is a white wooden post with a metal mailbox in a basic color, such as navy, red, or black. 
Could you also affix an address plaque or a custom mailbox directly to your home's exterior? Of course. What works or even looks good on some homes might not work for others, explains Kenin. 
"In Connecticut, many homes are located far apart from each other and set back a good distance from the street, so placing a marker on the actual home is not as helpful," she says.
Other important things to address
Whether you go with a themed address plaque or numbers that are more basic and utilitarian, Martin says to choose an easy-to-read font in an appropriate size for your home. "You want to make sure that the numbers are large enough to be seen from the street," he says.
Could such a small thing as swapping out house numbers really make a difference for your home? It sure can, says Martin. 
"In most cases, simply replacing the house numbers on a home can help to increase its curb appeal," he says. "If the numbers are old or faded, then they can make the home look dated. Replacing the numbers is a relatively inexpensive way to update the look of a home, and it can have a big impact on its curb appeal."