This Space-Saving Kitchen Solution Is So Much Better Than a Knife Block
We
independently
select these products—if you buy from one of our links, we may earn a commission. All prices were accurate at the time of publishing.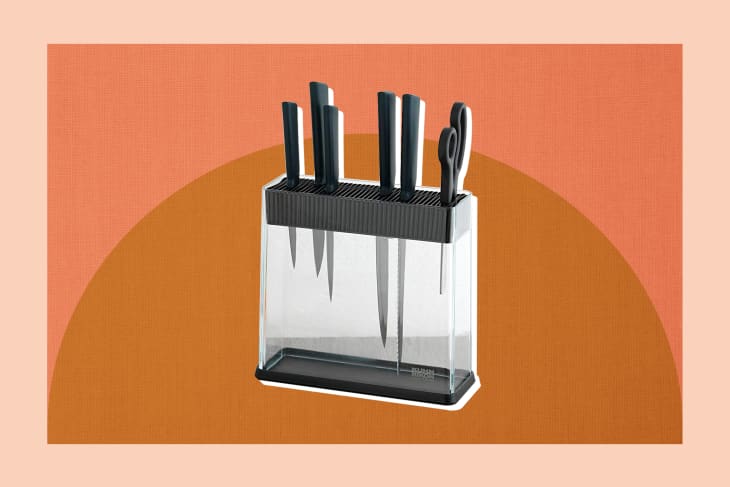 Whether you've slowly amassed a collection of razor-sharp Japanese knives or inherited a carbon steel blade that requires special treatment, good knives are a major investment. So why do so many of us still keep them dangerously crammed in a drawer or shoved into a clunky wooden knife block? Our knives (and fingers) deserve better.
Luckily, the thoughtful designers at Kuhn Rikon have created a knife stand that isn't just good for blades, it's also space-saving and chic. Measuring eight-and-a-half inches square and only three inches deep, the block's low-profile design makes use of vertical space and doesn't hog valuable countertop real estate. Imagine tucking the stand flush against a backsplash or the side of a refrigerator. While magnetic knife racks offer similar space-saving benefits, they require you to drill into walls (a no-no for renters) and have limited capacity, since knives are stored flat.
The transparent plastic box has a flexible, accordion-style slotted inlay that can fit up to 18 knives. Unlike traditional knife blocks that have limited slots for each size blade, you'll be able to store your full collection of chef's or paring knives in one place. Blades up to 8 inches in length can be tucked safely into the stand without risk of them dulling or coming into contact with wandering hands. The inlay adjusts for any brand of blade, not just Kuhn Rikon's colorful styles, and some reviewers even use the stand to store kitchen shears, honing steels, and meat forks. 
"It can hold a lot of knives," noted one reviewer. "I have about 10 big knives in mine and about about 6 small knives with two of them in one sleeve. There are still additional slots though for big knives (perhaps another 4?). I also have my kitchen scissors in it. It is really a great knife block."
For those who wonder what might be lurking in their wooden knife block, there's no question here. The plastic base and inlay are both removable, so the box can be cleaned easily, in case any moisture or food particles make their way into the stand.
It's not every day a stylish design is actually useful, but here, form and function combine to make the ultimate countertop knife storage solution. After all, you've spent your hard-earned money on your knives, why not show them off?