Amazon Reviewers Swear This Is the Secret to Coping with the Winter Blues
We independently select these products—if you buy from one of our links, we may earn a commission. All prices were accurate at the time of publishing.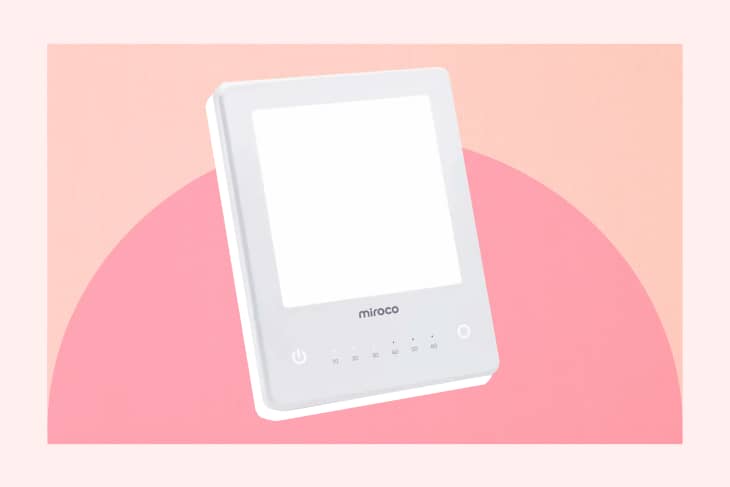 With winter officially here, the harsh reality is that it's getting dark a lot earlier. And that change in sunlight can affect us in different ways: for some of us, it may throw off our sleep schedules; for others, it may lead to seasonal affective disorder, a type of depression that's largely a result of cold weather and a lack of light.
Follow Topics for more like this
Follow for more stories like this
The Miroco lamp delivers the medically recommended intensity for effective light therapy and offers three different modes: light, warm, and bright. It's suggested that you begin using the lamp for just 10 minutes and then gradually increase usage to 30 minutes or an hour until you find the time that's most helpful for you.
"In the past, I've had a hard time getting up in the morning when it's dark until 9 am and I'm groggy most of the day, " said one reviewer who bought the lamp to cope with Seattle's long winters. "I've been using it for a few hours each morning as the grey days have come back to Seattle and I can report it has really improved those days! I feel awake and energized within 20 minutes of turning it on. My coworkers have even noticed the difference!"
Besides helping to boost productivity levels during the winter months, the light can also help get sleep cycles back on track, relieve jet lag, or brighten up a dark room or office desk that receives little sunlight.
"I bought this to help regulate my sleep cycle as I often [can't] fall asleep until 3 or 4 am," said one reviewer. Another added that it improved working conditions in her office: "I keep this on my desk and it for sure takes away from the depression and eye strain of being inside looking at your computer monitor in the dark all day."
Many five-star reviews also commented on the lamp's modern and sleek design that makes it convenient for propping on a work desk or bedside table or for toting along on trips. "I love the footprint of this model," said one pleased reviewer. "Since you position it to the side, you can easily use it while doing paperwork, reading, working on the computer, watching movie/TV."
There's also a newer version of the lamp with equally rave reviews, but the original one definitely seems to be a crowd favorite. In the words of one enthusiastic reviewer: "Bring on old man winter, I'm armed and ready!"