This Mattress Protector Blocks Dust Mites, Sweat, and Allergens—and it Has Over 28,000 Positive Amazon Reviews
We
independently
select these products—if you buy from one of our links, we may earn a commission. All prices were accurate at the time of publishing.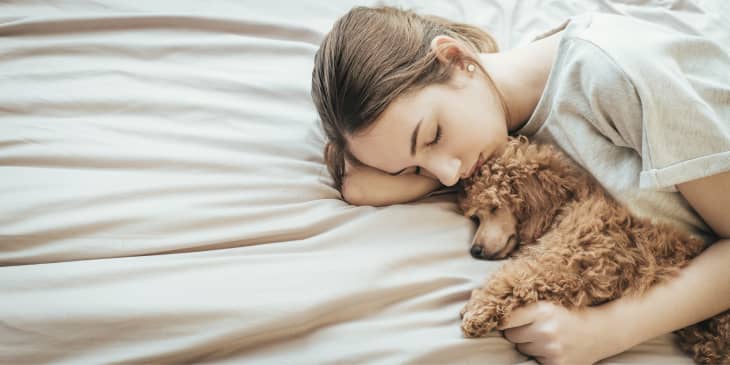 For many people, myself included, a mattress is a big investment. But it's an item I'll definitely splurge on, because who doesn't want a good night's sleep? While mattresses typically come with some sort of warranty against sagging, breaking coils, or irregular bunching, there's nothing that covers the wear and tear related to spills and sweat. And if you're going to spend a lot of money on one single item, you want it to last as long as possible.
That's why it's good to have a mattress protector. Besides being waterproof (perfect if you've got kids and pets), it also protects against against dust mites, perspiration, allergens, and bacteria. The SafeRest Premium Hypoallergenic Waterproof Mattress Protector, available on Amazon in every bed size, is a top pick that comes with over 28,000 positive reviews and works on all types of mattress up to 18 inches, including memory foam, latex, and innerspring. And right now, it's on sale for $24.95 (usually $69.96).
One of the things that makes SafeRest a standout is its hypoallergenic cotton terry surface. Many mattress protectors use vinyl or polyester to repel liquids, but SafeRest's cotton terry loops help to absorb them before they hit the mattress. The material also allows heat and air to pass through, keeping your bed cool and dry. According to one happy customer:
"I purchased this and a few weeks later, a significant amount of liquid was spilled, forming quite the puddle, directly on the bed sheets. By the time I realized it, I pulled the sheets off, certain the mattress must be ruined. The sheets and mattress protector were both drenched. The mattress was still perfect."
Reviewers also rave that SafeRest's fitted mattress protector is super comfortable and doesn't make crinkly and crunchy sounds when you move (a common problem with other brands). It's also great for allergy sufferers, because the protector traps triggers like dust mites on its surface so they can't pass through to the mattress, where they usually reproduce and defecate (horrifying, right?). As for keeping the mattress protector clean, it's as simple as washing it quarterly with regular laundry detergent and no bleach.
So after spending a bunch of money on a mattress, is it worth dropping another $25 on a mattress protector? Sure sounds like it:
"This is our third re-purchase mattress cover," says one reviewer who "highly, highly, highly" recommends SafeRest's protector. "We have a great Dane (that sleeps in our bed) and a toddler (who plays in our bed). Because of this mattress cover, our mattresses are in pristine condition."