Move Over IKEA Marketplace: Our Favorite Under-$5 Finds from Muji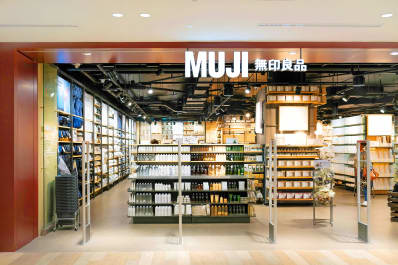 (Image credit: Kiattisak Anoochitarom/Shutterstock)
If you've ever fallen as a willing victim to the IKEA marketplace, you already know: When home basics are well-designed, aesthetic, and affordable, we can't get enough. But there's another spot like the marketplace to get your fix.
It was right under our noses the entire time—right in the store's name. Muji was founded in 1980 in Japan, but has since arrived stateside (including online) to offer up brandless quality goods. That's literally the name, according to the New York Times:
New York shoppers who can read the characters in the Japanese label (無印良品) immediately get the inside joke. The first character, 無 (mu), means "without." The second character, 印 (jirushi), means "brand." "Muji" is simply short for "Mujirushi Ryōhin" or "brandless quality goods."
And Muji delivers on that promise. Here are 10 of our favorite affordable home basics, all under $5 each.
A glowly little tealight holder you can afford to confetti your bathroom with.
In case you need tealights while you're checking out, you don't have to run to IKEA. Muji has scented and unscented bags. (Although, yeah, IKEA gives you like, 100, for the same price.)
A beautiful basic that'll look great on your counter or nightstand.
These things are like old-school telephone cords—which means they grip, but won't snag, your hair.
If you use cotton rounds in your daily routine, upgrade to these soft cotton squares instead.
(P.S. You can also buy the cotton pads on Amazon, but they're a bit more than if you bought straight from Muji.)
This slim brush is great for scrubbing grout or other small nooks and crannies around your home.
This thing clips onto your favorite notebook and holds your pen securely, so you'll never lose it again.
A foldable, portable lint roller cheap enough to stash in your suitcase so you never leave home without it.
Use these five stacking containers to corral craft supplies, nails and screws, or small fasteners and get your junk drawer back in shape.
(This one is available on Amazon, too.)
PP Arrangement Boxes, $1.25 and $2.50
Grab an assortment of these bins and "tetris" them together to make a totally custom drawer organizer.
Apartment Therapy supports our readers with carefully chosen product recommendations to improve life at home. You support us through our independently chosen links, many of which earn us a commission.