If You're Going to Read One Book In November, Make It This One
We
independently
select these products—if you buy from one of our links, we may earn a commission. All prices were accurate at the time of publishing.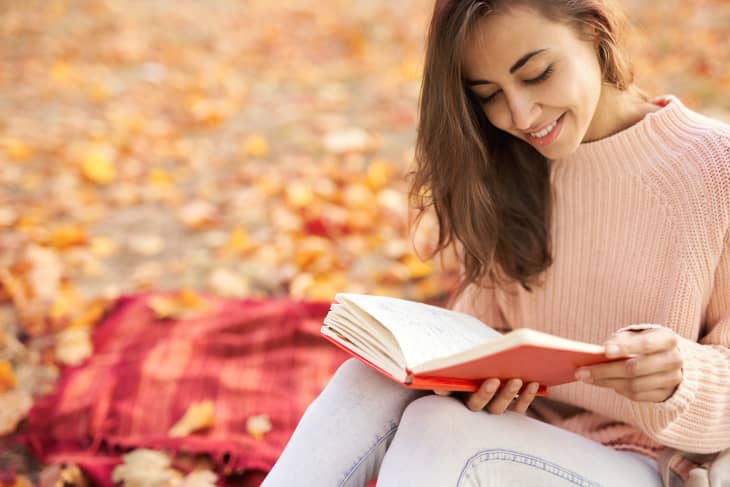 With the holidays fast approaching, it's an ideal time to start thinking about gift ideas. And you can't go wrong with a good book! Well, I may be biased, but after checking out some of November's best new book releases, you might just change your tune. 
One book I highly recommend is "We Deserve Monuments" by Jas Hammonds. Make sure to have a box of tissues nearby; sobbing (happy and sad tears) is enviable while reading this outstanding debut. Executed with exquisite prose, readers meet Avery, who is spending the summer before her senior year transplanted from DC to Georgia. Her mother is returning home to care for Mama Letty, Avery's estranged and terminally ill grandmother. But Avery sticks out in the small, southern town of Bardell; she's a queer, biracial teen. Luckily, she makes friends with her next-door neighbor Simone Cole and Jade Oliver, who also happens to be the daughter of Badell's leading family. Thus begins an intricately woven queer coming-of-age story about love, the marginalized, generational trauma, and secrets buried in the past. 
Undoubtedly, "The Islands" will be recommended for fans of Deesha Philyaw's "The Secret Lives of Church Ladies." The moving and insightful collection of short stories explores the complexities of the Jamaican diaspora — immigration and assimilation, the meaning of home, identity, class, and belonging — through a diverse and alluring cast of characters across time different periods and countries. From modern-day New Jersey to 1950s London, "The Islands" is as entertaining as it is gutwrenching, as enlightening as it is striking. 
Beware, Allie Rowbottom's "Aesthetica" may feel a little too close to reality for comfort. Former Instagram influencer Anna is preparing to go under the knife one last time. Aesthetica, the procedure, will supposedly undo all her previous cosmetic surgery — Anna barely recognizes herself now at 35. But on the eve of her operation, the past makes an unwanted appearance. A conspicuous look at the toxicity of social media culture and the idea of perfection, Rowbottom deftly explores topics of mother-daughter relationships, exploitation, and feminism in this disturbing and raw debut. 
There's a reason why this debut novel has been chosen as a Today Show #ReadWithJenna Book Club pick and a November Book of the Month pick. Seeped in those perfect-for-fall dark academia vibes, "The Cloisters" is a slow-burning journey into the Metropolitan Museum of Art, where a group of researchers comes across a 15th-century deck of tarot cards that are theorized to tell the future. 
"I wanted to write a book about friendship, loss and distilling life down to its essence, which is love and laughing at each other. It's also a book about parenting and long marriage," says Catherine Newman about her hug of a book, "We All Want Impossible Things." "I also wanted to write a book about how uniquely, exquisitely beautiful hospices — and their staff — can be." The author, who also cooks Monday dinners at a hospice, did just that. "We All Want Impossible Things" is a humorous, touching rumination on life, death, and friendship.  
Excuse me while I fangirl for a second. AHHH. Ok, thanks. After waiting a little over two years, book two in the "Legendborn" series is here, and it's just as fantastical and explosive and emotional — or maybe more? — then the first. I recommend rereading "Legendborn" before diving into this beast, however. Tracy Deonn picks up Bree's story right where she left off without too much explaining of relationships, past events, etc., allowing for a deeper understanding of the complex world the author created. That's all I'm going to say about this mighty sequel. 
This dynamic modern retelling of "Pride and Prejudice" has it all: excellent pacing, sexual tension, romantic chemistry, plenty of laughs, diverse representation, and remains true to the OG Jane Austen. 
"Pretty Little Liars" fans, rejoice! The author of the bestselling mystery series turned TV hit is back with a new YA thriller. Well, a thriller mixed with a paranormal romance. The novel, a twist on Cinderella, follows 17-year-old NYU student Casey Rhodes who starts hearings voices inside her head. The voices cause such alarm that Casey flees to the sleepy, remote beach town of Avon. But once there, she recognizes people and places she's certain she's never met or been to. As with any Shepard release, expect surprises at every corner.