This $50 Foldable Desk Needs No Assembly—And It Has Over 17,000 5-Star Reviews on Amazon
We independently select these products—if you buy from one of our links, we may earn a commission. All prices were accurate at the time of publishing.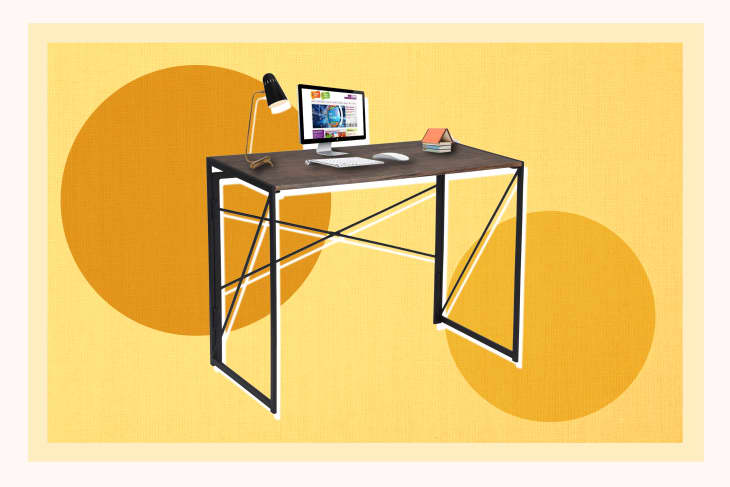 When it comes to buying furniture, especially online, one of the biggest drawbacks for me is that it usually involves some sort of assembly. My most recent furniture construction endeavor involved recruiting a friend to help me decipher a roadmap of instructions, while I pieced it together like a puzzle. I even had to run out and buy a hammer before I could begin. It also took three hours, and it would've taken longer if I hadn't had a friend directing me step by step, telling me what to reach for next.
That's why when I hear the words "no assembly required," I pay attention. We just discovered this folding desk from a brand called Coavas that has over 17,000 5-star reviews on Amazon—and not only does it require virtually no assembly, but it also costs under $60.
"Like my grandma could do it easy," one reviewer says of setting up the desk. And on the other end of the spectrum: "Literally my 5-year-old figured it out before I put it together," another confessed.
All it takes is one step: Open the black frame, snap the desktop into place, and voila! No hardware or tools required. Not only is it a piece of cake to set up, but it's also a totally versatile piece and can be used as a desk, a vanity, or even a craft table. It's also perfect for small spaces, with a slim, lightweight build that's easy to store when not in use.
"I was looking for a small but functional desk for a smaller apartment that I could easily bring in without hauling a heavy box and having to take out tools to put together," said a reviewer. "Nothing real fancy, but looks nice, functional, sturdy and easily transported. I would purchase it again."
"It's very sturdy and although not the size of a regular desk, it's big enough to accommodate laptop, keyboard, files, etc. Does not at all look like I have a piece of office furniture in our living room," said another reviewer who works from home and sought out an extra workspace in her home.
While there are plenty of good things about the desk's minimalist design, the one thing it does lack is storage space. If you need drawers for papers and files, there's plenty of room underneath to add a filing or storage unit. And if you want something more, the brand also sells a foldable, easy assembly bookcase that perfectly complements the desk.