Best Online Vintage Shops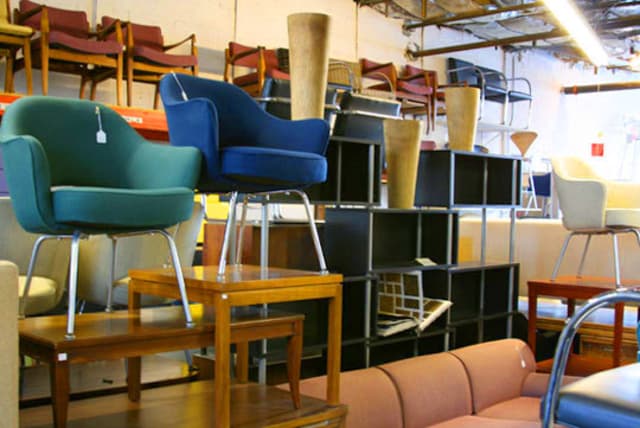 One of the best parts about vintage shopping is the discovery process – the hunt for that unearthed jewel. While shopping online may not be as exciting as touching dusty old treasures and haggling with dealers, it does help narrow down your search and really clear out the clutter for finding the best pieces possible. Direct from our Marketplace, check out this list of ten fantastic online resources for vintage shopping.
Two Jakes
A massive favorite for those in the NYC area, this Williamsburg based retail furniture store carries classic 20th century modern office furniture and more. Their stellar inventory is always current and available online.
Rehab Vintage
Specializing in vintage steel office furniture like tanker desks, industrial lighting and more, Rehab Vintage has a well stocked online shop with easy ordering.
Vintage Modern
This Brooklyn based shop is run by the delightful Erin Hall, who maintains a charming a charming, up-to-date blog where she constantly debuts the current stock in her little store.
Ohmega Salvage
This Bay Area shop, with tons of unique items listed on their webpage, specializes in salvaged and restored items, serving architects, contractors, homeowners as well as the general public.
VandM.com
VandM.com is an aggregate site that brings together a big group of sellers specializing in antique furniture, artwork, textiles, and lighting. If you choose to buy a piece, the site connects you directly with the seller, wherever they may be.
1st Dibs
This is another aggregate site that connects antique dealers with buyers around the world. They have some extraordinarily beautiful things, and the high prices reflect this. They're a go-to source for the luxury set—a lot of fun to browse.
Modern50 Vintage Industrial
Modern 50 is based in Sterling, Virginia, but they ship worldwide. Prices are expensive, but their catalogs are beautifully photographed and definitely worth a look for inspiration. They also carry some unique pieces that are difficult to find elsewhere.
Salvage One
This Chicago-based store has a good selection of reasonably priced vintage furniture and architectural elements, and they ship anywhere in the world. They can also assist customers outside the US with customs arrangements.
Century Modern
Headquartered in Dallas, Texas, this online store sells reasonably priced mid-century pieces from brand names like Heywood Wakefield, Vitra, and Herman Miller. They update their inventory frequently and ship worldwide. Prices are clearly listed online, and you'll have to call or email for a shipping quote.
The Good Mod
Located in Portland, Oregon, the Good Mod stocks vintage furniture from the 1920s through the 1970s. Prices are listed online, and — we love this helpful feature — estimated shipping quotes are included for each piece.
Image: Two Jakes