Best Out of the Ordinary Garden Stores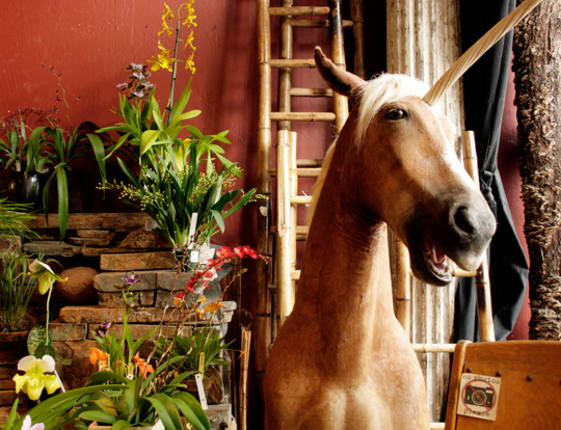 The best garden stores are the kind where you can waste hours — whether strolling through aisles of strange plants or browsing gorgeous photos online. Not your average big box home-and-garden depot, these eight specialty stores represent a mix of online and brick-and-mortar spots to get your gardening fix.
Potted
This Los Angeles store is a unique resource for containers, garden decor and supplies, furniture, and potted gifts. Owners Mary Gray and Annette Goliti Gutierrez describe it as "a mecca for like-minded, design-loving, garden enthusiasts."
Fifth Season Gardening Co.
This store was founded in North Carolina as a resource for quality organic hydroponic garden supplies. It has since expanded to 5 locations and an extensive online catalog. Look here for indoor lighting, planters, and growing tools.
Urban Zeal
Specializing in vertical gardens, online store Urban Zeal carries living wall panels by Florafelt, Woolly Wally, and PlantonWalls, ranging in price from $40 to a single-pocket wall planter to $1,700 for a full self-sustaining exterior wall system.
Fire Escape Farms
This online store (based out of San Francisco) offers a small but carefully curated selection of edible gardening supplies for small spaces. Check out their catalog's gorgeous photos of seeds, tools, books, and gardening accessories.
Paxton Gate
In its seventeen years, the scope of this one-of-a-kind Bay Area store has expanded beyond plants and taxidermy to include architectural elements, vintage furniture, unique home accessories, fossils, lighting and beyond.
Pistils Nursery
This Portland store is a resource for sustainable gardening, chicken keeping and terrariums. Around the nursery, you'll meet several resident chickens as you peruse their unique selection of ornamental and edible plants.
California Cactus Center Los Angeles
The "ultimate source for succulents and cacti," this store is ten minutes away from the Huntington Botanical Cactus and Succulent Garden and the Los Angeles County Arboretum, so you can get inspired and then shop for cacti.
Jardins Des Fleurs
This Tokyo gallery is a showcase for the work of 33-year-old Makoto Azuma. One of those rare people who's succeeded as an artist while keeping a retail storefront, he creates custom floral arrangements...or conceptual artworks, depending on your point of view.