Out of the Ordinary Online Inspiration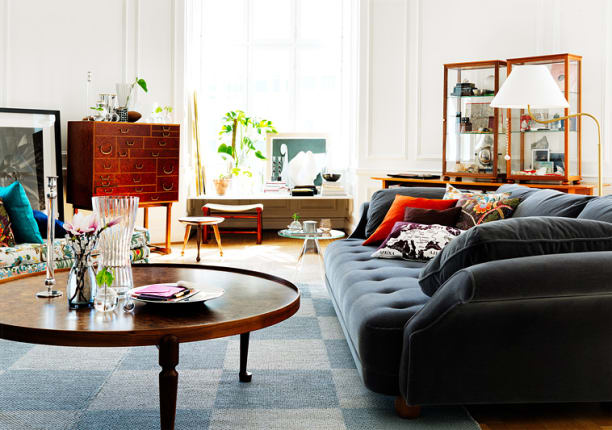 Tired of clicking through photos of the same boxy sofas when you're shopping online? To find original ideas, browse stores with a distinct aesthetic. Here are 9 of our favorites, from Josef Frank's textile shop in Stockholm to a Mexican company that's equal parts psychedelic 60s and Victorian chic.
Svenskt Tenn
Josef Frank and Estrid Ericson worked together at this fabric and furniture store, which remains today a bastion of Swedish modernism. The store holds claim to an archive of 2,000 furniture sketches and 160 textile designs — much of it on the web.
Emery & Cie
This store's flagship is in Brussels, with other locations in London, Paris, and throughout Europe — but it's their online catalog that keeps us coming back. Romantic and full of saturated color, the shop specializes in gorgeous paint, tile, fabrics and furnishings.
Another Country
A small contemporary craft furniture company based in Dorset, England, their product photos are shot in English cottages and farmhouses. All of their designs are archetypal and call "on the familiar and unpretentious forms of British Country kitchen style."
John Robshaw
This popular designer's collections of Indian-inspired textiles include gorgeous photos of bedding, throw pillows, tablecloths, curtains, and personal product lines with scarves and assorted accessories. Suggested pairings give rise to other ideas for fearless color combinations.
Roche Bobois
Browsing through the catalog pages of French sofa company Roche Bobois is sort of like flipping through Vogue — everything is unattainable, but it's totally worth a look for inspiration, especially if you're looking for gutsy ideas.
Rococo
If you went to a William Morris exhibit at the V&A while tripping on LSD, you might start seeing the world the way Rococo does. Based out of Mexico City, everything they do is crazy, colorful, a little bit stupid, and a lot of fun.
Les Indiennes
Created through a traditional multi-step process called kalamkari, these textiles are organic, handmade and their production provides fair-trade income to Indian families. Their catalog is an amazing resource for laid-back, hippie-chic style ideas.
Tine K
This Danish catalog is shot in the home of storeowner Tine, and it's a truly inspirational example of someone living in an uncluttered space furnished with high-quality pieces. Bookmark this if you love the minimal white-wall, white-floor aesthetic.
Svenska Mobler
This Los Angeles shop carries Mark Shaw's fashion photographs from the 50s and 60s, populated with elegant models in lux interiors — definitely worth a look for mid-century inspiration and jewel-toned color schemes.
RELATED RESOURCES
• 10 Sources to Bookmark for Color Inspiration
• Best Out of the Ordinary Catalogs
• 8 Amazing Small Space Resources to Bookmark

Top Photo: Svenskt Tenn, Stockholm