Best Pantry Organizers: Space Savers & Food Storage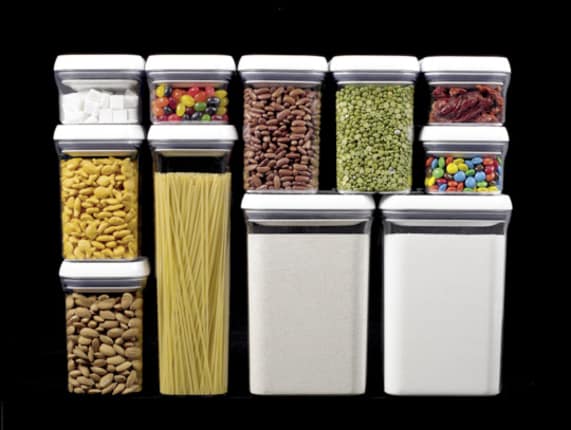 As we head into spring cleaning and organizing season, a pantry organization project might be on your to-do list. If you number among those planning to clean out the pantry and get it into working order, here are some of our favorite sources for simple, streamlined food storage.
OXO
Their POP Containers ($99.99 for 10 pieces) have a push-button top that creates an air-tight seal and doubles as a handle. Designed to be stored on top of one another, they can be stacked in different combinations to maximize space.
Rev-A-Shelf
They specialize in rolling, sliding, and pull-out organizers for kitchen cabinets, and their products are sold through Lowe's, Amazon.com, and other major retailers. Shown: 4 WP Pantry Series, starting at $151.10.
Rubbermaid
They make closet/pantry organizers, wire wall-mounted shelving, and stackable food storage containers. Prices are affordable, and their products available through major big-box stores. Shown: Modular Canisters, $20 for 8 pieces.
Container Store
They're one of the best sources for the full spectrum of pantry products, from pull-out cabinet organizers to wall-mounted Elfa shelving. Their Undershelf Baskets ($6.99 - $8.99) were favorably reviewed on the Kitchn.
IKEA
They have a few affordable lines of simple, modern food storage, including the 365+ (tupperware-style), Celeber (ceramic and wood), and Droppar Series (shown here). Made of glass and stainless steel, Droppar jars start at $2.99.
SaveOnCrafts
This online craft store is a good one to check for inexpensive glass jars, baskets, and storage tins when you want to buy in bulk. Shown: Mason Jars with Metal Lids, $1.50 each or $18 for a case of twelve.
Specialty Bottle
Another online source for bottles in bulk, they carry everything from spice jars to gallon jugs. Shown: Gallon/Half Gallon Jars, starting at $2.17. (Orders must be placed in cases of four, eight, twelve, etc.)
Williams-Sonoma
Their Swedish Wood Shelving is a freestanding solution if you don't have a closed pantry. It's a modular system, where shelves can be connected and expanded, and it starts at $29 for a stemware shelf.
Sur La Table
In addition to lines by OXO and other brands listed here, Sur La Table carries these Kinetic Glass-Lock Storage Containers ($6.36 - $11.96), made from tempered glass with a plastic lid. The green silicone strip creates an air-tight seal when lids are locked in place.
Organize.com
Like the Container Store, this online resource has a good selection of expandable cabinet shelves, stacking storage, and undershelf baskets, as well as pull-out organizers for low cabinets. Shown: Double Shelf Organizer, $15.
Metro Shelving
Another freestanding solution, stainless steel Metro shelving is sturdy and available through a bunch of retailers, including 125 West, the Container Store, and Sears. Shown: Metro Commercial Pantry Shelves at the Container Store, $498.95.
Photo: 10 Piece POP Container Set, $99.99
Apartment Therapy supports our readers with carefully chosen product recommendations to improve life at home. You support us through our independently chosen links, many of which earn us a commission.