Best Playhouses 2011: From Cabins to Teepees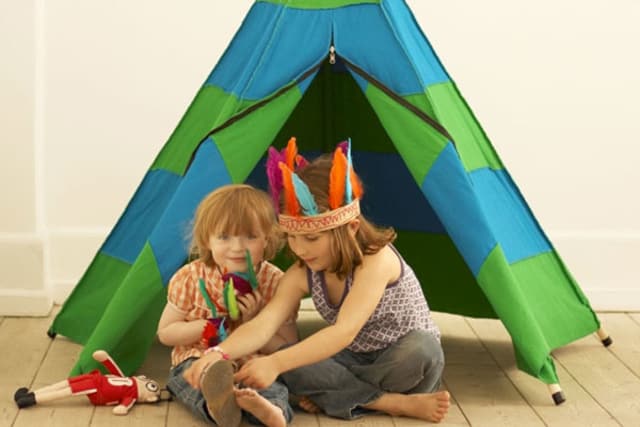 We look forward to this shopping guide all year — every kid dreams of having a playhouse to themselves, and adults love them, too. From custom cottages that cost more than $15k (hey, it's OK to fantasize, right?) to canvas teepees under $200, these child-sized houses run the gamut of style and price.
Modern Cabana
Based out of San Francisco, Modern Cabana makes prefab backyard sheds, including a $1,500 version for children known as the Kiddo Cabana. It's mod and green, made with tree oil stains, non-VOC finishes and glues, and FSC-certified wood.
Studiomama
UK-based StudioMama is a high-end design and architecture studio, but they keep things affordable by selling DIY blueprints. You can find instructions for building this modern kids' playhouse on their site for £50.
Community Playthings
This catalog store specializes in products for Montessori schools and childcare centers, so they sell a lot of collaborative play gyms and lofts for children ranging from toddlers to 7-year-olds. This is the $1,680 Nursery Gym (for children 9 months to 2 years).
Metroshed
David Ballinger, founder of MetroShed, sells a high-end modular playhouse for kids known as the MetroPlay. Prices range from $5,850 for the basic modern box to $6,850 for all the bells and whistles, including an add-on slide and swing.
Barbara Butler
San Francisco artist Barbara Butler builds and paints playhouses, so that each whimsical design is one of a kind. These custom playhouses don't come cheap — this Cape Codder Playhouse sells for $16,640.
Home Depot
This megastore carries a number of backyard playhouses, from traditional log cabin styles to Victorian sheds. This Handyhome French Chalet Playhouse is our favorite of the bunch, and it sells for $1,550.
Magic Cabin
This online store carries both indoor and outdoor playhouses for children. They have several teepees, including this Canvas Teepee, which comes in three sizes (S, M, and L) and ranges from $129 to $359.
Skandivis
This UK store specializes in Scandinavian design, and their striped Hippie Play Tent is one of the best looking ones we've found. Made of Ecotex cotton canvas, it comes with four wooden poles and sells for £140.
Etsy
For handmade playhouses (particularly fabric and canvas play tents), Etsy is a good bet. We found some very cute teepees from this seller for around $150. Crafted from checked and striped fabrics, they ship out of San Antonio, Texas.
Guidecraft
Since 1964, Guidecraft's been making child-sized furniture for use in schools and homes. They make quite a few wooden play structures and kitchens, including this bright yellow School Bus Playtime Loft, $2,250.
Hayneedle Stores
A conglomerate of several smaller websites, Hayneedle owns an entire site dedicated to playhouses, and they carry everything from nylon tents to log cabins. Shown: Backyard Discovery Winchester Playhouse, $400.
RELATED RESOURCES
• Playhouse Shopping Guide: High & Low

Photo: Scandivis Hippie Play Tent