Best Portable Grills: Weber, Fuego, Lodge & More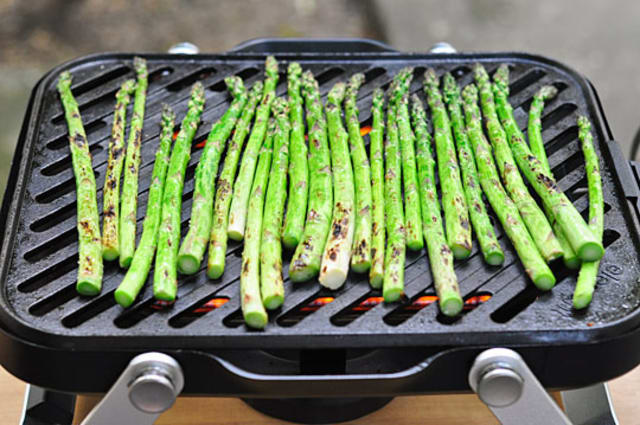 If you're an apartment dweller without a lot of storage space, a portable grill can be a huge help. Equally useful on a patio or at a picnic, most are compact enough to store in a kitchen cabinet. This list of eight options includes a mix of charcoal and gas grills. If you want more information on which type of grill is right for you, check out this post for tips to help you choose. Make sure to do some comparison shopping online, as prices vary slightly from store to store.
Fuego
The Kitchn reviewed their new portable Element gas grill and reports, "It fits several burgers, a mass of kebabs, or a whole pound of asparagus in one shot without needing to revert to batches." On the downside, it heats a little unevenly. Pricing runs around $150.
Weber
The charcoal Smokey Joe has a cooking grate that's about 14 inches in diameter (big enough for several burgers) and the lid locks down for carrying. It comes with a 10-year limited warranty, and pricing runs between $35 and $40, depending on where you buy it.
Lodge
The Sportsman Grill is a heavy-duty camp grill with two adjustable heights for cooking over charcoal. The design uses heavy cast iron walls to retain consistent heat, but cleaning can be a bit of a pain. Pricing starts around $80 at outdoor, camp, and big box stores.
Bodum
Their charcoal Fyrkat Grill comes in four colors (black, yellow, green, and red), and it's about 15 inches in diameter — a good size for grilling vegetables or a few burgers. Made from enamel-coated steel, it's a bright, fun option, and it's affordable at $60.
Well Traveled Living
They make several good-looking portable grills, but their most popular model is the folding Hotspot Notebook Charcoal Grill, which sells for around $25 to $35. The grilling surface is about 18 x 12 inches, and it folds flat into a depth of just one inch.
Eva Solo
The Eva Solo Table Grill is a sleek design that has a wooden trivet base. It's the most modern of the bunch, and sells for about $360. Made from porcelain, the interior is protected by a stainless steel lining that holds the charcoal briquettes.
Cobb
Their charcoal Premier Portable Grill ($150) is made of stainless steel. Designed with a dome-shaped lid and a double-walled based that "circulates heat in a convection style," this grill heats evenly for up to 3 hours. The cooking surface is on the small side, at 12 inches in diameter.
Solaire
This SOL-IR17B Portable Grill is a propane model made from stainless steel. It uses an infared burner, which helps the grill to heat up super fast. With 155 square inches of cooking surface, it's one of the largest on this list. Pricing ranges between $325 and $350.
RELATED RESOURCES
• How to Shop for an Outdoor Grill
• Best Sources for Picnic Equipment

Top Photo: Fuego Element Portable Grill | Emma Christensen for the Kitchn