These Are the Best Eco-Friendly Reusable Straws: Metal, Glass, Silicone, and More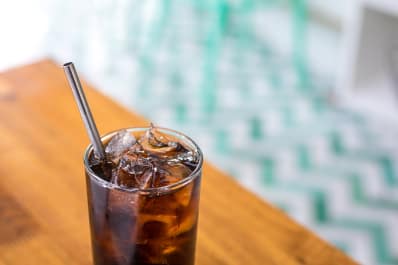 (Image credit: VBD Photos/Shutterstock)
In case you missed it, plastic straws, especially the disposable ones wrapped in paper, can be awful for the environment if you're taking and using them mindlessly. So if you're a fan of drinking liquids with a straw, do the earth a favor and invest in a reusable version, if you're able.
We've rounded up the best of the bunch, with our favorite picks for each group, to make finding the right reusable straw a breeze. From metal straws to plant-based styles, read ahead for 15 stellar reusable straws—all Prime-eligible on Amazon.
The Best Metal Straws
Durable and built-to-last, metal straws are the perfect reusable straw for drinking on the go, since they're virtually impossible to break.
Our #1 pick:
YIHONG Set of 8 Ultra Long Stainless Steel Straws (set of 8), $9
Plastic- and BPA-free, this sleek set of eight extra long (10-and-a-half inches each) metal straws comes with four bent straws, four straight ones, and two cleaning brushes—all for under $10.
Other options:
SipWell Stainless Steel Drinking Straws (set of 4), $7: An Amazon bestseller for a reason, this cute set of four bent stainless steel straws comes with a clever cleaning brush and over 1,600 five-star reviews.
ALINKCA Stainless Steel Straws (set of 8), $9: Not only does this charming set of eight stainless steel straws come with both bent and straight straws and two extra long cleaning brushes, you also get eight removable colored silicone tips to protect your teeth from sipping super hot and cold drinks.
The Best Glass Straws
Sleek and easy-to-clean, glass straws are a stylish way to help save the environment and are totally dishwasher-safe.
Our #1 pick:
Reusable Bent Glass Drinking Straws (set of 6), $10
Not only are these colorful glass straws completely shatter-resistant (and reusable), they boast a bent shape for easier drinking on the fly.
Other options:
Hiware Reusable Glass Straws (set of 8), $9: Made of lead-free glass, this dishwasher-safe set of eight 10-inch long glass straws is perfect for drinking iced drinks on the go. Did we mention they come with two cleaning brushes?
Reusable Glass Drinking Straw with Travel To Go Protective Case, $20: Although it's a tad bit pricier than other glass straws on the market, we like this compact glass drinking straw because it comes with a protective travel case so you can carry it around in your purse at all times.
The Best Silicone Straws
Great for sipping super hot and cold beverages because the silicone won't change temperatures, silicone straws are great for both the environment and kids.
Our #1 pick:
Hiware Reusable Silicone Drinking Straws, $9
We like these colorful silicone straws because they are bent for simplified drinking on the fly and offer added flexibility for slurping thicker drinks. Plus, a pack of eight will only set you back nine bucks.
Other options:
Hiware 12 Inch Extra Long Silicone Straws, $8: Perfect for large tumblers and water bottles, this multi-colored pack of five silicone straws comes with two cleaning brushes—and no rubbery taste!
Mcool Silicone Straws (pack of 8), $11: Wide and long, this rainbow-colored set of eight silicone straws is designed for sipping thicker drinks, like smoothies and milkshakes, and comes with a carrying pouch so you can tote them around with ease.
The Best Bamboo Straws
Made of organic and recyclable materials, bamboo straws offer a natural alternative.
Our #1 pick:
Baliboo Bamboo Drinking Straws (set of 12), $18
Sleek and durable, this pack of a dozen plant-based straws comes with a pineapple-adorned carrying pouch so you can carry them around with you wherever you go.
Other options:
Juniper Bamboo Drinking Straws (set of 6), $12: Not only are these chic bamboo straws stylish enough to show off, they're surprisingly dishwasher-safe. Did we mention even the packaging they come in is recyclable?
One All Natural Bamboo Drinking Straws, $11: Made of biodegradable bamboo, this set of 10 all-natural drinking straws contains no inks, dyes, or chemicals. Even cooler, one percent of all profits from these savvy bamboo straws is donated to the Ocean Conservancy to help remove plastic from the ocean.
The Best Biodegradable Paper Straws
While biodegradable straws might not technically be reusable, they're still a more earth-friendly option than disposable plastic.
Our #1 pick:
Hiware 200-Pack Biodegradable Paper Straws, $10
Not only are these adorable biodegradable paper straws safe for the environment, they come in eight different striped color ways making them perfect for cutting down on waste at parties.
Apartment Therapy supports our readers with carefully chosen product recommendations to improve life at home. You support us through our independently chosen links, many of which earn us a commission.