These Satin Pillowcases Can Change How You Sleep—and Cost $10 a Set!
We independently select these products—if you buy from one of our links, we may earn a commission. All prices were accurate at the time of publishing.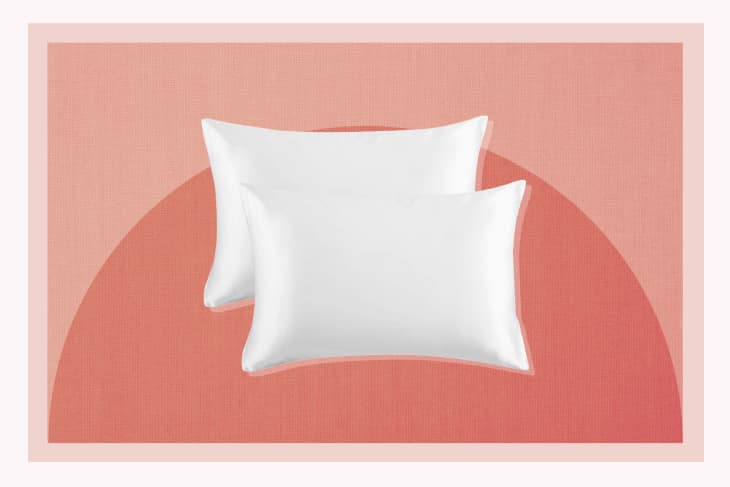 In a perfect word, your bed is your sanctuary. It's a private retreat that's soothing and refreshing, used only for sleep and relaxation. But in the real world, it's sometimes your office. And your living room. And…maybe even your dining room at times? (Hey, don't judge!)
If you've got roommates, or a cramped apartment, your bed can pull double duty — making it harder for your bed to feel like, well, a bed, when it's time to get some sleep. And while we'd all like to splurge on silk sheets, or thousand-count Egyptian cotton, the price can be daunting. But now you can steal a little bit of luxury — and some zzz's — for just under $10, thanks to Bedsure's satin pillowcase set. The pair of pillowcases come in a variety of colors, from gray and white neutrals to soft lavenders and bolder teals, and while they're made of polyester instead of silk or cotton, they're still oh-so-soft — and have scored five-star reviews from more than 5,000 satisfied customers.
"I swear I've been sleeping better since I got them!" raved one reviewer. Another elaborated, "They feel cool to the touch and have the pleasant feel of silk, so it feels luxurious to lay down with these at the end of a long day. I'd highly recommend these, especially for the low cost." And as one customer noted, "You can't beat the price."
If you're still looking to justify buying yourself satin pillowcases — even bargain-priced ones — consider this: Satin is thought to limit hair breakage, as well as prevent facial lines and wrinkles. But does it really help with beauty sleep?
"I have issues with hair breakage and I have noticed that I have less fall-out and frizziness when it comes to my hair," said one reviewer. Added another, "My hair looked freshly blown dry the next morning. I'm not exaggerating, hair looked the exact same in morning as it did after I styled it the night before. So, if this material is that nurturing to my hair I can only imagine how my face is loving it."
The only downside? Some customers said the satin fabric is prone to snags from pet nails or earrings, but otherwise is easy to care for — even when going through the wash: "I wash them every week (machine wash on cold, hang dry) and they're still good as new."
And with a $9.99 price tag, knowing that you didn't overspend will definitely help you get a good night's sleep.