The 11 Best Small-Space Design Ideas We Saw This Year
We independently select these products—if you buy from one of our links, we may earn a commission. All prices were accurate at the time of publishing.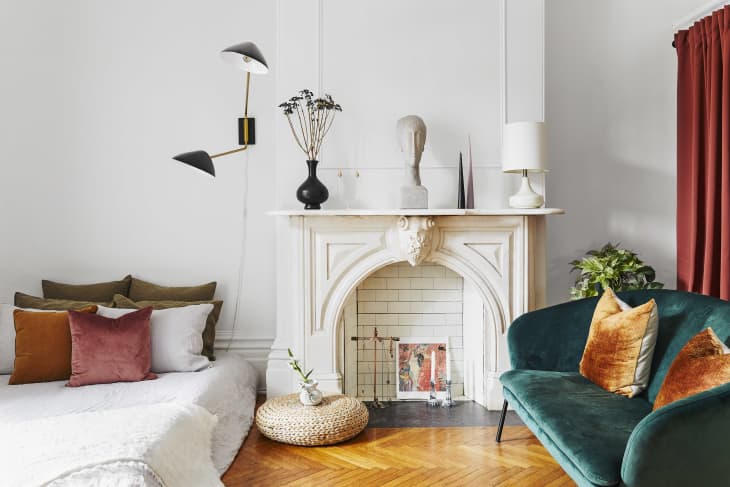 As a small space dweller myself, I'm always making a never-ending list of decorating hacks that will allow me to maximize the square footage in my apartment. Everything from chic storage solutions to a creative layout can be key in making the most of a bedroom, kitchen, or living area that's on the small side. As part of a look back on 2020, we've rounded up 11 of our favorite small space design ideas from the past year that continue to inspire months later. I'm deciding which tips to put into effect in my place before the year is through, and I'm wondering if you've tried any of these yourself, too.
Follow Topics for more like this
Follow for more stories like this
1. Create a nursery nook in your main bedroom
With the help of some IKEA finds and the creative use of a corner, one Brooklyn couple was able to carve out a "nursery nook" in their bedroom. Now they're able to easily keep an eye on their little one from bed and don't have to skimp on all of the necessary pieces babies require, such as a glider, changing table, and dresser. Purchasing modern, neutral items that worked with their existing decor means the room still hangs together, design-wise.
2. Avoid low-to-the-ground furniture
Pieces with legs can add height and dimension to even the smallest of spaces. According to Alessandra Wood, interior design expert and vice president of style at Modsy, "nothing makes a small space look even smaller like a bulky sofa plopped right on the floor." List that cushy, low-slung sofa for sale and watch your room transform when you bring in something a little airier. It'll give a tight space some room to breathe. The same is true for coffee and side tables, too.
3. Maximize a hallway's potential
Don't discount your hallway as a space to set up a standing desk or bookshelf, especially now that you're spending more time at home. Need some inspo to get your creative juices flowing? Make like designer Angela Belt, who used her hallway for a compact WFH setup. "I had to design vertically, so I got an IKEA desk that attaches to the wall and a desk chair that slides under, so it doesn't get in the way when someone passes through to go out the door," she says. You can also carve space out of a closet, too, as shown in the home above.
4. Ditch the traditional nightstand
This petite space is actually an Airbnb, and it sure has mastered both form and function. If your bedroom is also compact like this one, consider mounting a small shelf or tabletop to your wall and using that in lieu of a bigger bedside table. Yes, you might forfeit the opportunity for closed storage, but you'll also prevent the space from looking too cramped. This strategy is proof that sometimes less can be more in a small space.

5. Opt for a headboard with storage
6. Hang a mirror—or two!
Mirror, mirror on the wall… oh, how I want to display you all! Mirror lovers, you're in luck, because your favorite pieces can work wonders for a small space. There's no need to scale down on these functional accessories just because your room's footprint is limited. According to HGTV host Vern Yip, an oversized mirror will always expand the sense of visual space in a room. Lean a full-length style against the wall, add a looking glass above a piece of furniture to anchor it, and put a small mirror on your tabletop if you feel so inclined to. Just make sure you can actually see your reflection in each of these pieces, so that they're easy to use as mirrors, too.
7. Opt for a clear shower curtain
Shower curtains come in all patterns and styles, but a simple clear selection can actually help make a small bathroom feel larger. In fact, just a liner will do the trick! Do note that you'll want to "invest in a high-quality liner for this hack—not just the cheap, frosted ones you can find at a dollar store," Laura Fenton writes. That way, this looks like an intentional design decision and not just a decorating oversight.
8. Purchase a bed with drawers
Fenton, a longtime small space dweller, also recommends selecting a bed equipped with storage drawers, which can be key for storing extra clothing and linens. In her case, this type of bed eliminated her need for a dresser altogether, which is a major plus if your bedroom is especially tiny.
9. Place your bed in a corner
Sometimes it's okay to break a design rule or two in the name of creating more space. To that end, placing your bed against one wall, rather than positioning it so that it's floating in space, can free up more room to move around a bedroom. Best of all, this is a $0 decorating idea, and you can still fit a nightstand—or nightstand alternative like the pouf shown above—on one side of the bed, too.
10. Go bold with wallpaper
Adorning your studio apartment's walls—or a tiny powder room—with a busy pattern may seem counterintuitive, but trust us, it's a daring design decision that can pay off big time. According to designer Caitlin Murray, opting for a bold print will makes the rest of the room seem less cluttered and chaotic. I don't know about you, but I'll gladly take any excuse to add more pops of color!

11. Utilize tiered storage under the sink
Sure, there are all sorts of organization solutions geared toward the cabinet below the sink, which is a key place to keep paper towels, trash bags, and cleaning supplies. However, tiered storage, which tends to be more frequently used in pantries, is a total game changer for this often crowded but crucial area. Notes designer Jean Liu: "We love this tiered shelf at The Container Store because it allows cleaning supplies to be stored around the disposal unit."