This Cult-Favorite Noise Machine (with Thousands of 5-Star Reviews) Is On Sale for $17
We
independently
select these products—if you buy from one of our links, we may earn a commission. All prices were accurate at the time of publishing.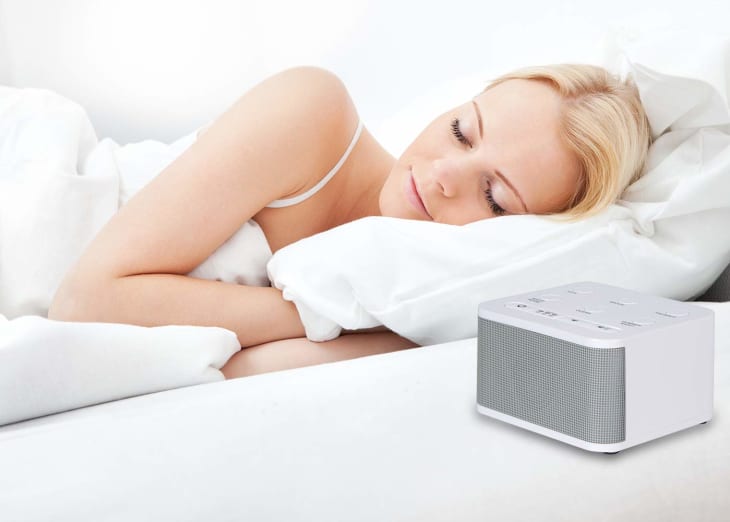 Between noisy neighbors and rogue street sounds, getting some peace and quiet in the city (or anywhere for that matter) can be difficult to come by. While you might be able to tune it out during the day, it's a whole different story come bedtime.
While a trusty set of earplugs is one answer to drowning out sound pollution, a calming white noise machine is an optimal solution for blocking out loud neighbors, barking dogs, and even snoring. In fact, Amazon customers swear by the Sound Machine from Big Red Rooster for getting a good night's sleep.
The small and mighty machine, which has over 6,000 5-star reviews and is on sale for just $16.99, offers six noise settings, including Rain, Brook, Ocean, Thunder, White Noise, and Summer Nights. Each sound has its own button and can also be set on a timer if you only want it to play for a certain period of time rather than the whole night. It also has volume control, and it's portable for traveling, with both battery-operated and plug-in functionalities.
"The sounds are so lifelike that it's almost spooky," said one reviewer, who described the machine as the "real deal." "If you close your eyes, you'll swear you were drifting along on the tide at the beach, or relaxing in a hammock during a summer shower. The sounds do a superb job of masking unwanted noise."
A woman with inconsiderate neighbors who play loud music into the early morning took matters into her own hands and bought some machines for her family so they could fall asleep at night: "We're glad we did, as listening to loud rain or ocean waves will really be preferable to that awful base noise that only tends to make me angry."
Beyond the bedroom, reviewers got crafty on how they use the sound machine. One woman kept one in her bathroom to, um, drown out sounds that are amplified by an unfortunate echo issue. Another used it to to help soothe her puppy Dixie, who would wake up each morning at 4 a.m. screaming. "Since she started using her sound machine she now sleeps to 6 a.m. and awakens pleasantly!" the reviewer said of Dixie, who prefers the bubbling brook sound. "Best purchase ever (for the entire household)!"
Ultimately, everyone seems to agree that this sound machine is a dream come true.
"Overall, this is a highly recommended machine for it's price, durability, and overall target function," a reviewer concluded. "If you're looking for a device to produce white-noise to sleep…this is the one!"