Best Sources for Knives 2011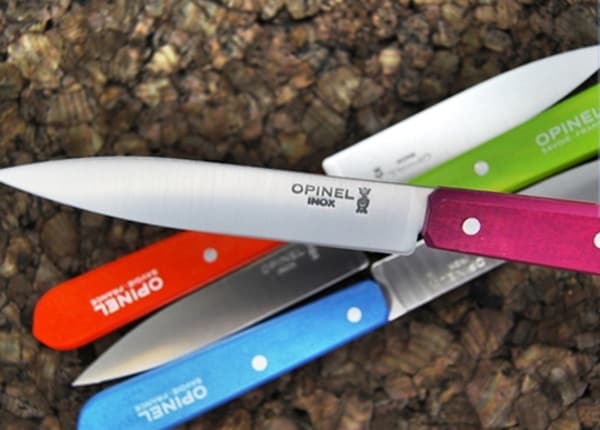 A good set of knives and a well-used sharpener rank among a cook's most prized possessions. Which type of knife you choose and how much you want to spend varies a lot from person to person, but I recommend doing a little research. Testing is even better, either in friend's homes or in stores — not all allow it, but some do.

Here are 12 good places to start — if you're looking for tips on which type to buy and how to spot a quality piece, both the Broadway Panhandler and Fantes have helpful shopping guides online.
Opinel
Created in the late 1800s, the classic French Opinel knife was a wooden-handled folding design. In addition to pocket knives, Opinel now makes carbon and stainless steel kitchen knives with beechwood and colored handles. Shown: Opinel Paring Knife No 112 (set of 2), $18.95.
Victorinox
Makers of "the original Swiss Army Knife," Victorinox sells both household and professional knives. They're a good source for well-made chef's knives in the $20-$30 range, but they also sell more expensive options. Shown: Forged Steak Knife, $72.
Seito Trading
Sushi knives can run very expensive, and this webshop is a good resource for both mid-range and higher-end models. They carry 8 brands, as well as a catalog of Japanese cookware and tools. Shown: Suisin Inox Sushi Knife, $138.
New West KnifeWorks
Based out of Jackson Hole, Wyoming, New West Knifeworks makes their Fushionwood Chef's Knives in America. The handle is crafted from vacuum-dyed hardwood veneers, and the blades are carbon steel. Shown: Fusionwood Line Paring Knife, $50.
Zabars
This Upper West Side grocery store is a New York institution, and their cutlery department stocks several high-end brands, as well as an in-house line of Zabar's knives. Shown: Zabar's 6" Flexible Boning Knife #K422, $43.
Northwestern Cutlery
Located in Chicago's West Loop neighborhood (with an e-commerce site as well), Northwestern Cutlery carries knives by MAC, Shun, Kikuichi, Forschner, Global, Wustof, and other brands. Shown: Kershaw Shun Pro 4.25-in. Deba Japanese Knife, $125.
Sur La Table
Although a chain store, Sur La Table has good customer service and I've found their cutlery department particularly helpful. They'll demonstrate and test knives in the store, and they carry most of the major brands on this list. Shown: Wusthof Ikon Blackwood Chef's Knife, $180.
Williams-Sonoma
Although known for high-end products (and prices), Williams-Sonoma has a surprisingly diverse range of options in their cutlery department. Their Multicolor Paring Knife Set is just $30, the blades are carbon steel, and customer reviews give high ratings.
Broadway Panhandler
Owner Norman Kornbleuth is something of an expert on cutlery, and he stocks his New York store (and website) with a wide but well-edited selection of knives. There's also a good knife buying guide online. Shown: Kyocera 6" Ceramic Chef's Knife, $60.
Amazon.com
When you're comparison shopping, Amazon often turns up the best price on knives. Their selection is huge, and shipping is free on orders of $25 or more. Shown: Victorinox 40520 Fibrox 8-Inch Chef's Knife, $30.
Fante's Kitchen Wares Shop
For information and an extensive selection of kitchen tools, Philadelphia-based Fantes usually makes our go-to list. Their cutlery department is no exception, and they even have an in-house line of hand-crafted cutlery. Shown: Global G-9 8.75" Bread Knife, $93.
Didriks
Based in Boston, Didriks has the best selection of Berti knives we've found in the US. Made by hand at the Berti studio in Tuscany, each knife is crafted by an individual artisan who signs the final product. Shown: Small Berti Slicing Knife, $250 – $445.
RELATED RESOURCES
• Best Places to Buy Knives 2010
• Best Picnic Knives
• Best Oyster Knives
• How to Select a Knife | Broadway Panhandler
• Knife Guide | Fantes.com

Photo: Opinel No 112 Mixed Color Handle Paring Knives at OpiKnife.com, $40
Apartment Therapy supports our readers with carefully chosen product recommendations to improve life at home. You support us through our independently chosen links, many of which earn us a commission.