Get Ready For Turkey Day: A Countdown of the Best Thanksgiving TV Episodes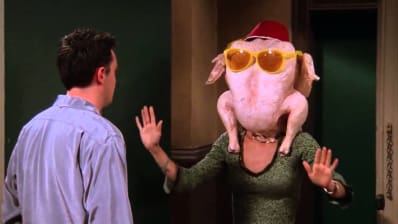 (Image credit: NBC)
We've got slightly under two weeks until the big meal. Get in the mood with the best Thanksgiving episodes—or at the very least, create seasonal background noise while you scour Pinterest for stuffing recipes.
Monday, 11/13
"An Indecent Thanksgiving Proposal"
Bob's Burgers Season 3, Episode 5
Thanksgiving is a thing in the Belcher household. Mr. Fischoeder rents out Bob's family to impress an old flame. Bob gets weird with his eternal flame, the turkey. Hijinks ensue. Also good: every other Thanksgiving episode.
Streaming on: Hulu
Tuesday, 11/14
"Shibboleth"
West Wing Season 2, Episode 5
Moving from the absurd to the witty-sublime: The West Wing leaves C.J. Gregg, played by the perfect Allison Janney, with a choice of two turkeys. Who should she pardon, and who will be eaten? As always, the side plots are as hilarious and thoughtful as the main event.
Streaming on: Netflix
Wednesday, 11/15
"Thanksgiving"
Master of None Season 2, Episode 8
It's tempting to rewatch all of West Wing and spend the rest of the week wishing politics was a series of logical decisions and clever bon mots. Don't. It will kill the mood. Instead, watch the stunning, quietly hopeful "Thanksgiving". If you haven't seen the rest of the show, it's fine: this episode stands on its own in every sense of the word.
Streaming on: Netflix
Thursday, 11/16
"The Mom and Pop Store"
Seinfeld Season 6, Episode 8
Elaine wins her boss the opportunity to hold the Woody Woodpecker balloon in the Macy's Thanksgiving Day Parade. You already know this isn't going to happen. Find out what comedy of errors is going to take the bird down.
Streaming on: Hulu
Friday, 11/17
"Thanksgiving"
Brooklyn Nine-Nine Season 1, Episode 10
Jump to a different New York for some sweet to balance Seinfeld's sour: the precinct's on the job but manages to celebrate with a reluctant Jake, calorie-conscious Terry, and Boyle Bingo.
Streaming on: Hulu
Saturday, 11/18
"A Lilith Thanksgiving"
Fraiser Season 4, Episode 7
The boys head to Boston, with Lilith along for the ride. Bebe Neuwirth is, as usual, a delight.
Streaming on: Amazon
Sunday, 11/19
"Huangsgiving"
Fresh Off the Boat Season 2, Episode 8
Navigating this most American holiday is interesting even when you've grown up with stuffing and pie. What will the Wus do when their Cornish game hens show up still clucking?
Streaming on: Hulu
Monday, 11/20
"The Wheel"
Mad Men Season 1, Episode 13
The beginning of Peggy's ascension, and a scene with Kodak that will make you cry.
Streaming on: Netflix
Tuesday, 11/21
"Thanksgiving Orphans"
Cheers Season 5, Episode 9
A Friendsgiving that arguably puts Friends to shame. Debate this with your family; or even better, watch the motley crew leave the bar, fight it out, and make it work.
Streaming on: Amazon
Wednesday, 11/23
Law & Order: Special Victims Unit
Any season, any episode
Your mom's plane just got in. This is what you're watching.
Streaming on: Netflix
Bonus: "The One With All the Thanksgivings"
Friends Season 5, Episode 8
On repeat from now until forever.
Streaming on: Netflix
Apartment Therapy supports our readers with carefully chosen product recommendations to improve life at home. You support us through our independently chosen links, many of which earn us a commission.