Tulip Tables Will Never Go Out of Style — Here Are Our 10 Favorites
We
independently
select these products—if you buy from one of our links, we may earn a commission. All prices were accurate at the time of publishing.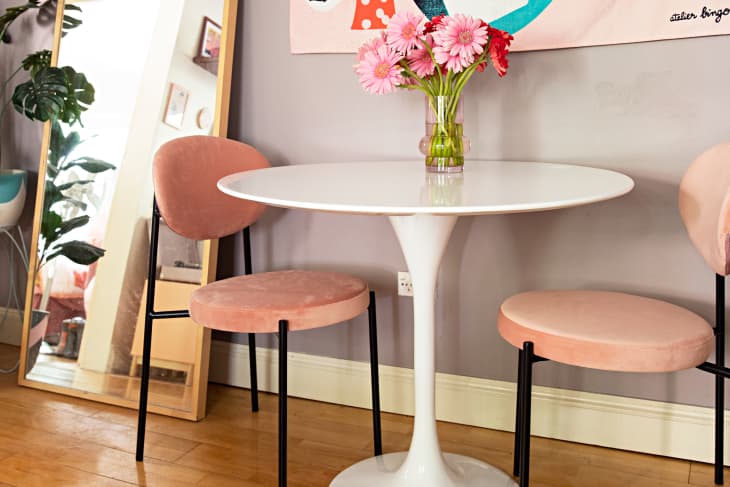 I'm going to make a bold statement and say that searching for the perfect dining table is an art form. There's so much to consider, like the size and shape of your dining space, how many people need to be accommodated, and how you'll use it — are you working on your laptop, going through your mail, enjoying a morning coffee, or, dare I say, actually eating a meal? And perhaps most important of all, when you sit down to do any of those things, are your legs and feet bumping into a clunky table base or the other chairs? 
Just recently, I was out to dinner with a friend and we were noticing how surprisingly beautiful the restaurant's tables were from the bottom up. We were commenting on how often the tops are attended to in material and shape — and even adorned in layers of beautiful serveware, linens, and ambient lighting — but the design of the bases is either underwhelming or not at all practical. 
That's where the iconic tulip table comes in. It's classic, timeless, and has everything when it comes to versatile and stylish ergonomics.
So, What Is a Tulip Table?
In the 1950s, Finnish American architect and designer Eero Saarinen wanted to do something about that often-overlooked space underneath a table. So he designed the OG of pedestal tables for Knoll, a brand that's become synonymous with modern design. These pedestal tables comprised a collection of rounded or oval tabletops with slender, tapered bases that offered space-saving solutions and comfort-minded proportions while maintaining an aesthetically pleasing silhouette (think: equal parts style, leg room and ample space for tucking in your seats when you're not in them).
Like many designs that were born of this era, its focus on form and function made Saarinen's pedestal table — and its Tulip dining chair counterpart — stand the test of time and feel at home with multiple design styles. 
Saarinen created these pedestal tables with a sculptural approach in coffee, side, and dining configurations. And Knoll still produces them with the designer's original intent: a beveled edge for the top and an elongated, graceful shape for the base. Named after the tulip for the chair's flowering seat and the dining duo's single, stem-like center leg, the pair have become icons of classic style, and have inspired a whole new generation of dining tables with clean lines and elegant curves. 
Ahead, our 10 favorite tulip tables in a range of materials, styles, and prices to fit any interior.