This Personalized Version of a Classic Game Is My New Go-To Gift for Weddings, Holidays, and Other Special Occasions
We independently select these products—if you buy from one of our links, we may earn a commission. All prices were accurate at the time of publishing.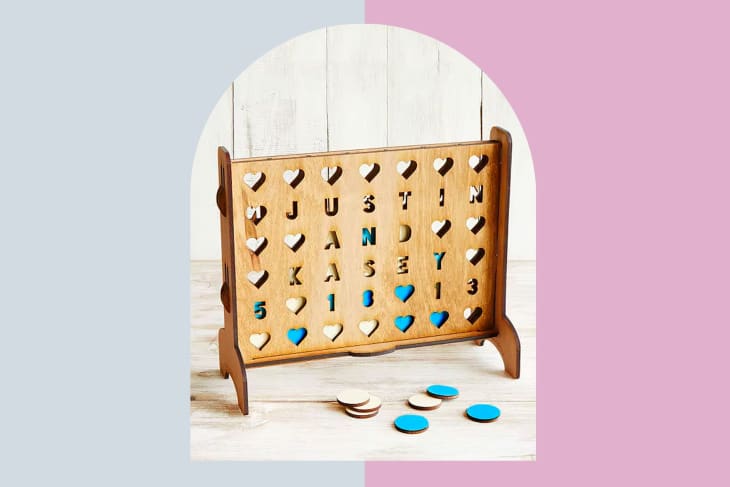 While I pride myself on being a pretty good gift giver, I must admit that choosing the right wedding gift can be a bit of a challenge. I grew up in an Italian family, where everyone just gives the newlyweds money. Easy! But there's a whole world outside of Italian weddings, where guests actually buy gifts for the bride and groom. Since so many couples already live together before getting married and are getting hitched a little later in life, I always feel like they don't actually need anything. So I prefer to go the personalized route, looking for something that's not only unique but also customizable, to mark the moment and the couple. And when my friends Luisa and Ed invited me to their wedding in England this summer, I found what I thought was the perfect match for the occasion: the Personalized Hearts Four-Across Game from Uncommon Goods.
Crafted from maple wood, the board is similar to a classic Connect 4 game, where you compete against another player to get four of your colored tokens in a row vertically, diagonally, or horizontally. In this version, the slots are hearts instead of circles, with the option to include numbers and letters as well. Up to four rows of the board can be customized with whatever names or messages you'd like (maximum seven characters per row), and you can also choose the color of the wood (natural or stained) and the tokens (there are a whopping 14 options).
For Luisa and Ed's present, I went with a stained version of the board featuring their names and wedding date, and red and natural-colored tokens to fill in the slots. The reason I think the Personalized Hearts Four-Across Game makes such a great gift is that it's a keepsake that can be left on display as decor but also used for entertainment. Since Luisa and Ed have children, I figured it would be great for game nights with the kids or when guests come over. And it's certainly a conversation piece.
For her part, Luisa agrees. "It's a great gift and really lovely twist on personalization," she tells me. While the wood may not be luxurious or solid, the board is cleverly crafted. "You can play it forever and the kids can play with it," says Luisa. "It's a kind of family item, which is brilliant!"
Priced at $85, the Personalized Hearts Four-Across Game makes an ideal wedding or anniversary present, but it could also work as a holiday, housewarming, or baby gift, customized with the little one's name and date of birth. And, of course, you can also use it to deliver a sweet message to someone special. No matter how you gift it, it's sure to be a winner.