We Tried 5 Methods for Cleaning an Oven — The Winner Was Surprisingly Effective and Even Kinda Fun
We independently select these products—if you buy from one of our links, we may earn a commission. All prices were accurate at the time of publishing.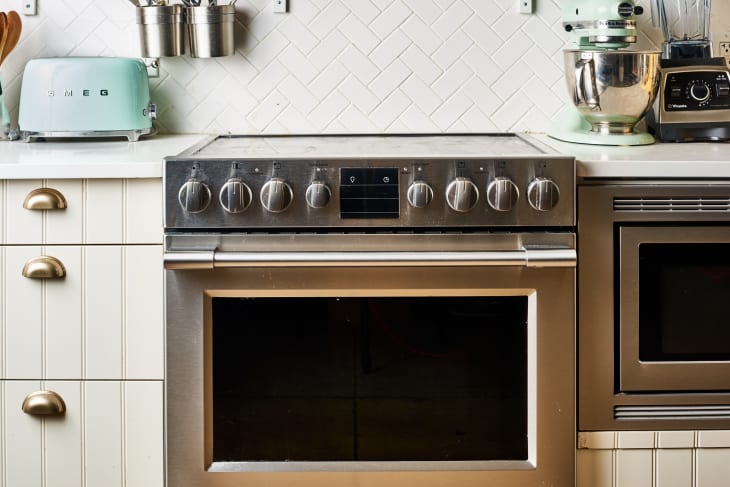 Cleaning the inside of the oven may be one of the most dreaded household chores of all time. I know I tend to put it off — because I don't want to do it and I know that I can literally close the door on the problem. Of course, this only makes the job harder.
Follow Topics for more like this
Follow for more stories like this
Eventually, "enough is enough," and it's time to confront the chore. When I finally do get around to cleaning my oven, I tend to just default to the way I've done it before — usually with the nagging thought, as I'm scrubbing, that there might just be a better way.
To get to the bottom of which method is best, I tested five common and highly regarded ways to clean an oven. Let's see which one came out on top!
How I Tested the Methods to Clean an Oven
To test the best oven-cleaning method, I first scraped off dried-on spills and then vacuumed up the the debris and other crumbs. I wanted to test products on the stubborn messes that don't come off easily, without any loose grime getting in the way. 
I tested each method on the oven door glass, the bottom of the interior of the oven, and the side of the interior. I gave each method three sections and did one method at a time to avoid any risky chemical combos. When applicable, I set a timer and cleaned each section until I saw adequate results. Then, I estimated how long the method would take to clean the entire oven. I relied on a thin, non-abrasive scrub pad, except for the methods that came with their own tool.
The ratings: I rated my results on a scale of 1 to 5, with 1 being the worst method overall and 5 being the best. Along with my ratings, I included notes on how the techniques worked and what I liked and disliked about each process and the results. I also took any applicable costs into consideration.

Note: Be sure to always check your manufacturer's instructions before cleaning your oven. Spot test if you are unsure. If using a harsh chemical, be sure to always wear gloves and open windows for ventilation.
Oven-Cleaning Method 1: Baking Soda + Vinegar
Estimated active cleaning time: 1.5 hours
Rating: 3 / 5
The method: Baking soda and vinegar are probably the safest products you could use to clean your oven. Baking soda is known for dissolving dirt, grease, and other sticky residue while providing a gentle abrasive to clean without leaving scratches behind. And vinegar's acidity makes it a good cleaner and helps to also combat greasy buildup. For this method, I created a paste with 1/2 cup of baking soda and a few tablespoons of water and applied it to the three sections. I let the paste sit overnight. In the morning, I saw that the paste had turned brown with soaked-up grease. I then spritzed the areas with vinegar. Spots with remaining baking soda reacted to the acidity of the vinegar and started to foam.
How it went: Considering the harsh chemicals that are sometimes used for oven-cleaning, baking soda and vinegar worked surprisingly well. I was impressed by how the pairing worked to cut through grease. However, I did have to scrub hard and work on a small section for a long time for the method to work. If you've cleaned your oven fairly recently, I think this is a great method for continued, regular maintenance.
Oven-Cleaning Method 2: The Pink Stuff 
Estimated active cleaning time: 1 hour
Rating: 3 / 5 
The method: With more than 87,000 five-star ratings on Amazon, I knew The Pink Stuff had many popular reviews praising this miracle British cleaning goo. I was excited to give it a try in my oven to see how it stacked up against the competition. I scooped out the equivalent of about a tablespoonful of The Pink Stuff. Then I scrubbed it around with a sponge. Finally, I wiped the product off with a wet rag. 
How it went: The Pink Stuff is fun to use. First off, it's pink! It also smells nice and feels pleasant coming out of its container (not something you'd expect to think about when cleaning, but there it is!). The product worked well, with relatively little elbow grease. I found that it worked better on the oven interior than the oven glass. The least appealing part of using The Pink Stuff was the somewhat messy step of cleaning it out of the oven. 
Oven-Cleaning Method 3: Scrub Daddy PowerPaste 
Estimated active cleaning time: 1 hour
Rating: 4 / 5 
The method: According to the company that makes it, PowerPaste can be used to remove dirt and food residue, grease, soap scum, and even limescale. The paste comes with a two-sided Scrub Mommy in a neat, double-decker container. I followed the directions on the tub, which involved wetting the sponge, spreading on paste, and then scrubbing and wiping it off. 
How it went: PowerPaste was super easy to use, especially with the convenient Scrub Mommy, which hardens with cold water and softens with warm water. While the cost of this product is equivalent to The Pink Stuff, the PowerPaste was even more effective on the oven door glass, so I gave it an extra point. But like The Pink Stuff, it was hard to wipe everything up after cleaning. There was just too much of it, and the PowerPaste was pretty sudsy. Even though it did a good job, it meant more time and work was involved just to get everything rinsed off.
Oven-Cleaning Method 4: Easy-Off
Estimated active cleaning time: 20 minutes hands-on time
Rating: 4.5 / 5
The method: I pulled on some gloves then sprayed the foaming Easy-Off along my test sections. According to the directions, I closed the oven, and let the product penetrate for an hour and a half. I turned on the vent and tried to air out the house while using it because even though it's a "fume-free" version, the odor was still pretty strong.
How it went: No wonder this stuff is called Easy-Off! Dirt visibly started to lift as soon as I sprayed the foam onto the dirty oven surfaces. Unlike the other methods tested above, cleaning up the Easy-Off wasn't particularly messy. But I did have to use several rounds of paper towels and wet rags to clean off all the residue. So much oven grime and sludge was released, though, that it felt worth it. Easy-Off worked better than all the previous methods and with far less effort on my part. Why wasn't this the overall winner? I'm pretty uncomfortable using Easy-Off around my kids, and I don't care to have the fumes stinking up the house.
Oven-Cleaning Method 5: Pumice Stone 
Estimated active cleaning time: 45 minutes 
Rating: 5 / 5
The method: The pumice stone, a porous lava rock, has traditionally been used for personal grooming, but, surprise, it can also be used to clean around the house! The most important thing to note is that a pumice stone should always be dampened when cleaning. To begin my test, I grabbed a bowl of water to dip my stone in as I cleaned. I used the stone as one would use an eraser, rubbing it over the stubborn grease splatters and burnt-on marks in the oven. I periodically wiped away pumice crumbs with a damp rag, and then wiped everything off thoroughly.
How it went: This method was the easiest, most straightforward, and most effective. The only thing I didn't love (and it wasn't a huge deal), was that the stone felt a little rough in my hands. Luckily, pulling on a pair of gloves easily solved that problem! Other than that, the stone worked so well that it was almost fun to use it on the oven. The best part: No endless suds to clean! And while the other methods may have required less scrubbing, the safety of the pumice stone gives it an edge and makes it my clear oven-cleaning winner!
How do you clean your dirty oven? Tell us your method in the comments below.