​The Best White Elephant Gift Ideas (All Under $20)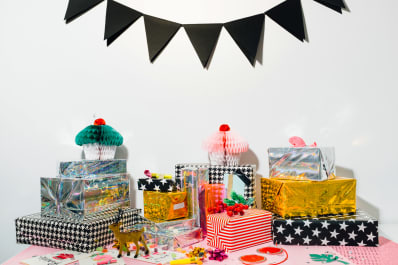 (Image credit: Katarina Radovic/Stocksy)
My understanding of White Elephant parties is that they're held after the winter holidays, giving everyone a chance to swap out the most hilarious, unwanted gifts they received as well as get rid of any fun, silly items they might have lying about the house. In recent years though, the emphasis has been more on pre-holiday exchanges and purchasing White Elephant gifts; they're still generally silly and fun, but are often simply fantastic bargains that are sure to be a hit at office parties and beyond. These 18 ideas—most under $10—will definitely be repeatedly stolen from your neighbor.
If you loved Dr. Pepper Lip Smackers back in the day, just imagine how in-demand this set will be (because nostalgia is always a hit).
Not only can the lucky recipient wear this fetching look during the festivities—this headband can become the official office birthday adornment.
These color-change sequin pillows have been all the rage with the tween set; here's one sophisticated enough for any adult yet just as fun.
The festivities will continue—for 12 days!—for the recipient of this advent calendar for grownups.
Everybody needs a digital burrito—perfect for stashing chargers, earbuds, pens, etc.—but nobody knows they do. Change their life.
Everyone loves sheet masks, but sheet masks that make you look like adorable animals?! These are going to be a hit. Also available in tiger, penguin, and more. For the price, make your own bundle!
Pickle Pops at Amazon, $10.75/2 sets of 6
Here's a gift idea that's a bit quirky, but any pickle zealots in the crowd will be clamoring to try these. They're like the classic freezie pops—but pickle-flavored! Be a champ and keep them frozen until gift exchange time for the instant gratification of the recipient.
It's a sushi bazooka. If you need more reasons to purchase this, we are attending very different parties.
This is silly but I'm not going to lie: having most of these things (deodorant, sunscreen, earplugs, pain reliever, bandage) on my person at all times would definitely come in handy, whether I'm attention a festival or just like...going to Target. And sometimes you need a temporary tattoo stat!
The whole party can get together to solve the mystery (just be sure to work out how you'll divide your winnings first).
I feel like White Elephant parties and macrame go together—is it a '70s thing? These Brit+Co x Target kits make great gifts, and most are under $20.
It's amazing how often a cake stand comes in handy, especially a cheap and glitzy little cutie like this one.
The real gift is to the other people on the plane who will get to admire your friend taking a nap in this sassy mask.
Planning on taking a group party pic? You'll want everyone to be wearing this bubbling absurdity (which we tested, more here) on their beautiful faces.
Are there some hardcore bakers attending this party with you? They'll love this cute set. (I am a hardcore baker and I have a similar set from Italy and I love it.) The labeling may be in Japanese, but fear not, as the letters are in English (and its pretty self-explanatory how to use them).
At this price, you could bring a set of 10 pairs to the party—there are also giraffes, sushi, catpuccinos, polar bears, and more.
Eleven bucks is a pretty good price for five poppy blending sponges! Any makeup buff would be sad to see this gift stolen from them!
I cannot explain to you in words how utterly delightful this item is in person. It is a flying, screaming monkey that will fill the recipient's life with joy forever.
Apartment Therapy supports our readers with carefully chosen product recommendations to improve life at home. You support us through our independently chosen links, many of which earn us a commission.