What Is Your Biggest Home "Embarrassment"?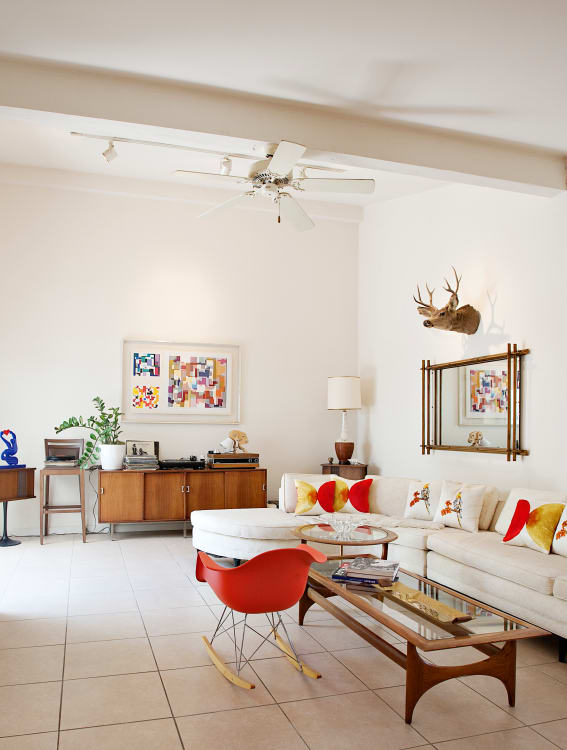 Take a look at the lead photo in this cool house tour. In the tour questionnaire, the homeowner cited the ceramic tile as her biggest "embarrassment". It made me think about what I'd list as my biggest home embarrassment, and what supposed embarrassments I totally dig.
My home embarrassment list actually goes on and on and changes often. The stained beige carpet that we will eventually tear out but can't right now? The dilapidated shed in the backyard? The low-end and aging kitchen appliances that came with the house?
I wouldn't show my house as a whole before these things were fixed, though. I have a mental checklist of what embarrassments are just too embarrassing.
If I were being truly honest, I'd answer "the mess" as my biggest embarrassment. No matter how fabulous a house is, if it's a mess, all that amazing style is obscured behind empty water glasses and piles of discarded mail on the coffee table.
I can attribute the mess somewhat to the fact that I live in an old house and storage is in short supply. I have a master plan for improving that aspect. It's just a matter of time and money. But the mess is also because I'm messy sometimes, a trait that I'm always trying to keep in check.
Other home embarrassments have been pointed out to me.
I once posted a Before & After of my bathroom after a mini makeover, and someone mentioned that the floor tile pattern was off in a section. She said she wouldn't be able to live with that. Of course I already knew about the tile — the previous owners weren't exactly perfectionists — but it honestly never bugged me too much until it was singled out. Then I fixated. (Luckily I'm now back to not caring and embracing imperfections.)
When I posted about painting our house, several people urged me to replace the front porch and overhang immediately. I was slightly ashamed to look at the front of my house after that, even though it previously had been pretty low on my "if I could renovate" list. If my husband and I had endless funds, sure, but that's a really expensive project. And I'd rather have hardwood floors.
If I were doing a house tour, I'd hide a few things for sure. My large foam roller. The mundane stuff that's usually out — the dog's ear drops, vitamins, a box of tissues — because it's practical to have handy. All clutter would be cleared, just like when any guests come over. And I'd warn the photographer, "Whatever you do, don't open that closet!" A sitcom-like closet avalanche would be embarrassing, though possibly amusing YouTube fodder.
In real life, my house probably never will be truly house-tour ready, at least in my mind. But someday I'll show it just the same, because I've worked really hard on it and I'll never be embarrassed about that.
So, if you were to do a house tour, what would your biggest embarrassment be? Is there anything so embarrassing that you wouldn't even consider doing a tour?
(Image: Lindsey Nochta)