Your Favorite Hippie Shoe Brand Dips a Toe in the Bed Market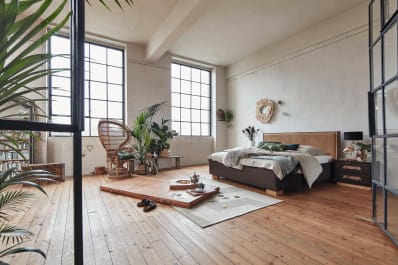 (Image credit: Birkenstock)
If the shoe fits, wear it, but what about a bed that's made by Birkenstock? If the renowned comfort of the wildly successful footwear brand's sandals is any indication, then we expect Birkenstocks' line of beds (can we call them Birken-beds?) to feel like sleeping on clouds.
As Architectural Digest reports, Birkenstock introduced a collection of modern beds during the IMM Cologne furniture trade show, and by the look of things, the company has gone the extra mile to ensure that the comfort of these beds measures up to that of its footwear, which has a stellar reputation for providing exceptional comfort for wearers.
(Image credit: Birkenstock)
The company's so-called "sleep systems" include "premium-quality beds, slatted frames and mattresses" that smartly mirror the design of the Birkenstock sandal's signature layered sole by using the shape of the footbed as a reference. The mattress is made from cork, leather and natural felt. Each of the collection's frame designs are named for six of the world's most bustling metropolitan locations, instantly inducing images of modernity and style: Canberra, Iona, Maine, Montreal, Montevideo and São Paulo.
If you think it's beyond cool to own a pair of sandals that complements your bed, you'll absolutely love Birkenstock's attention to design detail: The same leather straps we see on our beloved Birkenstock are incorporated on a headboard, and the pattern of the Birkenstock sandal's sole is visible in one of its frame designs. That basically sounds like sleeping in a super comfortable, oversized shoe that's decidedly more stylish than the rest (in case some of you were wondering if these beds will share the shoe's notoriously less-than-chic aesthetic).
(Image credit: Birkenstock)
At the moment, Birkenstock's beds are still at the prototype stage, but we're eager to see if they sleep as well as the brand's shoes walk.