This Is the Birthstone Color for the Month You Were Born
We
independently
select these products—if you buy from one of our links, we may earn a commission. All prices were accurate at the time of publishing.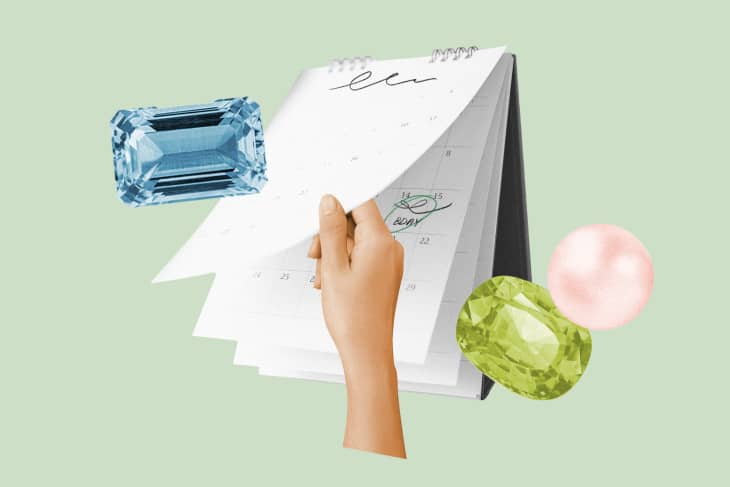 My birthstone is peridot — and I never really liked it. It just seemed kind of boring to me for a very long time. But as I learned more about it and the qualities of it during my specialist research for gem- and crystal–focused work, I grew to appreciate it much more. Now I can look at it with pride, and I actually think it's a pretty attractive stone. Do you know what your birthstone is? Consult the below list of birthstone colors by month to see, and to learn more about it.
Although garnet is mostly known as a red stone, it comes in a variety of colors including green, orange, yellow, and purple. They come from different locations in Africa: Madagascar, Tanzania, Namibia, Mali, Mozambique, and Cote d'Ivoire, in addition to an orange hessonite version from Sri Lanka. While garnet is beautiful on its own, it pairs especially well with an opal that will reflect its fiery qualities.
Amethyst is a quartz that spans a range of purple colors from light violet to a deep and dark plum hue. It looks glassy, with a reflective luster to the surface. The properties of the stone are said to make relationships stronger. Pair it with small emeralds or diamonds, something that doesn't overwhelm the amethyst's color.
March: Aquamarine or Bloodstone
March babies get a choice of birthstone: Either a light blue aquamarine (once carried by sailors to keep them safe at sea) or a dark green bloodstone with red specks. Bloodstone is actually a mix of two minerals — the green is chalcedony and the red is flecks of iron oxide. These both pair well with light-colored gems. (Think pastels.)
You'd know by walking past any jewelry store that diamonds are the ideal for many people — and sometimes, the larger (and more expensive), the better. They form in the earth's mantle on nearly every continent. Sparkling diamonds can range in color from clear ("white") to yellow, brown, and gray. Diamonds go well with basically every stone, but why not simply pair them with more diamonds?
Bright green to blue-green emeralds, although gorgeous, are very weak stones and can break easily. They're mined mostly in Colombia, Brazil, and Zambia, though they do pop up in other locations. Wear an emerald on its own, or surround it with smaller stones like rubies, sapphires, or peridot to give it some protection while still looking good.
For June babies, your birthstone is actually something biological. Creamy white to silver round pearls are the result of an oyster or mussel trying to protect itself from an invader. Appropriately enough, they represent wisdom, purity, and protection. Pair pearls with other pearls — ideally an entire string of them.
Deep red rubies represent passion and wealth — and they can be found in a pretty large number of places, including Myanmar (where the best quality comes from), Cambodia, Pakistan, Thailand, and the United States. Still, though, good quality rubies are pretty rare. These stones work best with diamonds and gems of complementary colors, like emeralds.
Light green peridot symbolizes strength and, according to folklore, prevents nightmares (though with this as my birthstone, I'd like to debate that). It comes from many places in the United States and from around the globe. Peridot is best standing on its own, since the color is such a delicate green.
The sapphire birthstone is typically thought of as a brilliant blue stone. But the gem is formed in a variety of colors (including pink and yellow) and in multi-colors (like the blue and green peacock Montana sapphire). The best quality sapphires come from Sri Lanka. Base your pairing stone on the color of your sapphire. For the standard blue, pick tanzanite and aquamarine for a nice combination.
Ninety-five percent of the world's opal supply comes from Australia, though it can be found throughout North America as well. They're formed when water that's full of silica leaks down into cracks in the earth. The water evaporates and a silica deposit is left, and then after layer upon layer of this deposit, an opal is formed. The stones are translucent and seem to sparkle in various colors from within, so wear them on their own to highlight the shine.
Topaz forms in a rainbow of colors, though the most common type is colorless. It gets color from either heat or chemical impurities in the stone, and some topaz colors can be bleached by the sun. The most famous topaz comes from Siberia, Brazil, and Japan. Topaz goes well with most other stones.
In the American southwest, you'll find turquoise everywhere and in everything. That's because the richest deposits of the opaque light blue stone come from Arizona and Nevada. Turquoise looks best when it's paired with natural colors and materials, so things like wood or neutral hues.