Amazon Shoppers Swear This Vacuum-Mop Combo Cuts Cleaning Time in Half and Leaves Floors Sparkling Clean (It's on Sale!)
We
independently
select these products—if you buy from one of our links, we may earn a commission. All prices were accurate at the time of publishing.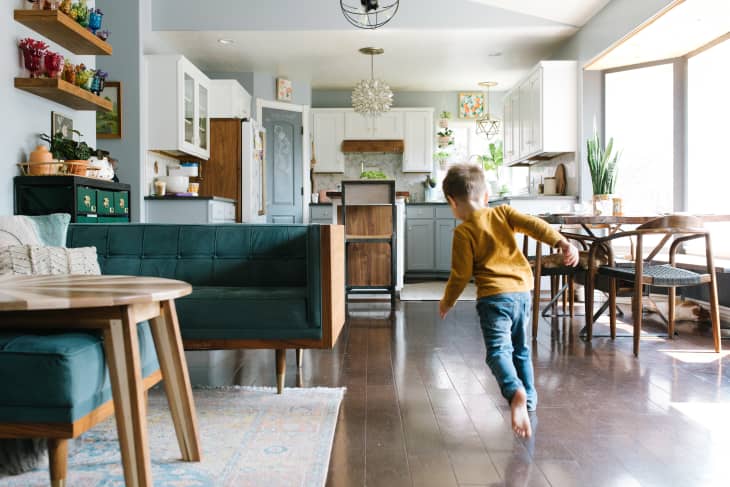 When it comes to weekly chores, we're going to venture a guess that mopping is at the bottom of everyone's list. It's just such a pain — between filling a bucket with water, staying off your floors so they can dry, and cleaning up after your attempt to clean your floors, it's almost more trouble than it's worth. Add to that the fact that most mopping attempts end up pushing dirty water around your floors and leaving streaks and, well, why would you ever want to mop again?
Enter the reason why: Bissell's PowerFresh All-in-One Vacuum and Steam Mop, which is about to totally transform your mopping experience once and for all. This handy gadget virtually eliminates the need for a vacuum pass before you begin mopping — instead, it does both, seamlessly vacuuming and steaming your floor at the same time (though there are settings for just vacuum or just steam). Suitable for a variety of floors — from hardwood and ceramic to marble and linoleum — it sanitizes through the power of steam, eliminating up to 99.9 percent of germs and bacteria and making your floors literally clean enough to eat off of (but maybe don't).
The key to this steam mop's quick clean lies in its separate water and debris canisters, along with its selection of washable mop pads. Choose from a soft microfiber pad for delicate jobs or a scrubby microfiber pad for tougher jobs. As one happy reviewer wrote, "I absolutely LOVE it. The two-in-one feature is so so awesome. I have three kids who are constantly dropping everything on the floor and there's so much wood floor to vacuum and clean. Vacuuming and then mopping on the same day just doesn't happen for me because I don't have the time to do both. NOW I can do both at the same time! It vacuums just as well as my Shark vacuum and cordless Dyson. It cleans just as well as the Swiffer I'm used to using, but it is even easier to clean tough spots because I don't have to scrub the area but instead let the vacuum sit and slowly move it back and forth to let the steam melt the spot."
Beyond its double-duty ability, the Bissell PowerFresh vacuum and steam mop also earns high marks for portability and ease, seamlessly taking the place of several gadgets (think: broom, vacuum, mop, and steamer) in one easy-to-use, lightweight body. "Dude, this is a game changer," wrote another reviewer. "Throw out your mop, your broom, your husband, everything! I have a lot of moving bodies in this house. I also have 100 percent hardwood floors on multiple levels of the house. There's a one-eyed cat here, a pit bull, a bearded dragon, three small humans, and a husband. This thing makes my house look like I've lived here for 80 years, by myself, knitting on my couch and not moving the entire time. Trust me you won't regret buying this."