Starchitect Bjarke Ingels Is the Subject of a New, Cryptic Documentary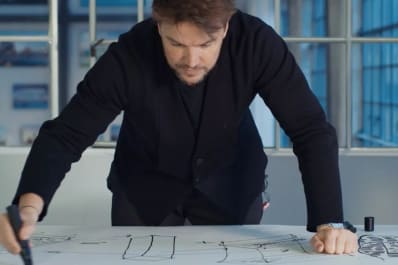 (Image credit: via Vimeo)
Danish architect and founder of BIG, Bjarke Ingels is the now subject of his own documentary, and the trailer leaves us in suspense. Entitled BIG Time, the feature length film will debut at the Copenhagen Architecture Festival in early May.
Ingels was featured in his own episode of Abstract, Netflix's eight episode docu-series that debuted in February and was widely hailed as the Chef's Table of design. The series followed people at the top of their game across different disciplines, from architecture to illustration to interior design.
From what we gather from the trailer, BIG Time will have a different take on Ingels' career, where the 42 year old architect discusses the pressures and anxiety related to the need to be innovative.
For someone who many consider to be an unstoppable force in the world of architecture, it's a sobering two minutes. It has, Arch Daily writes, a "previously unseen sense of fragility and vulnerability in a person who has consistently appeared forward-looking, optimistic and enthusiastic about his role."
Interspersed throughout the trailer are MRI scans of a brain, which we find out are from Ingels, and that he had suffered a concussion during the filming of the documentary. "Since [the concussion], I've had more or less a constant headache," he says. "The thing about a concussion is that you have to try to relax as much as possible. But that is pretty tough."
"If this is where I suddenly become unable to contribute meaningfully you almost could just lie down and wait for everything to be over," Ingels says in the trailer's final scene. I guess we'll just have to wait and see.
Check out the trailer for yourself below:
The world premiere of BIG Time, directed by Kaspar Astrup Schroder, is May 3 at the Copenhagen Architecture Festival.