How One Woman Made a 200,000-Member Outdoor Living Facebook Group from Scratch
We independently select these products—if you buy from one of our links, we may earn a commission. All prices were accurate at the time of publishing.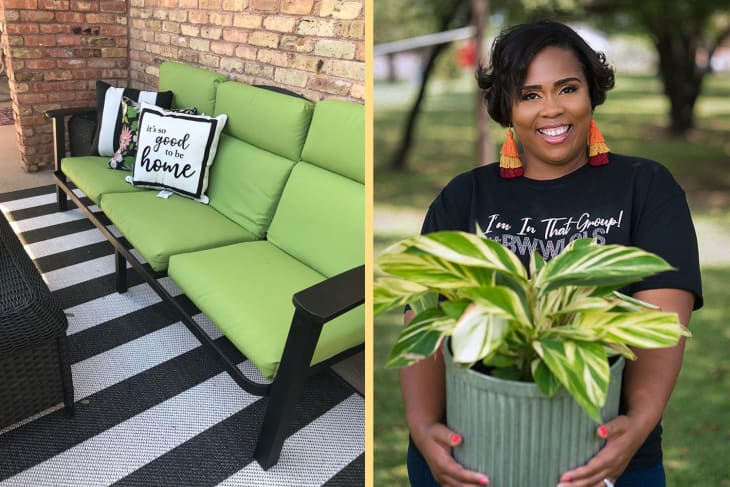 This year has presented plenty of obstacles when it comes to creating community. With travel limited and in-person hangouts mostly absent, it can be tough to find connection with others. But just because it's hard doesn't mean it's impossible—and in fact, the hurdles that COVID-19 has thrown have inspired some to get extra creative in what community means and can do.
Follow Topics for more like this
Follow for more stories like this
Take Tara L. Paige, a business coach from the Dallas area who founded one of the hottest private Facebook groups around: Black Women Who Love Outdoor Living Spaces. Paige clicked "create group" on April 23, 2020; since then, the group has gone from zero members to a whopping 194,000 spread across the U.S. and reaching into Thailand, Kuwait, and Italy.
Paige was inspired to start the group in the early days of quarantine. Before then, she and her husband, Reginald, were kept busy with their work, as well as music, volleyball, and cheerleading activities for their three active teens. "We were moving and shaking all the time," says Paige. "When the pandemic hit, everything came to a halt, so it allowed me to dive into creating that outdoor space I'd love."
In her newfound downtime, Paige wanted to make an outdoor space she'd love spending time in. So she DIYed a paint makeover for a secondhand patio table and chairs, and also added extra seating, fresh cushions, and a striped outdoor rug to the space. She began scrolling online for more inspiration to turn her patio into an outdoor living room. But Paige, a Black woman, noticed no one who looked like her was talking about outdoor living.
"My mother always said if you cannot find what you're looking for, create it," says Paige, who, as a member of Alpha Kappa Alpha sorority and Jack and Jill of America, is no stranger to community organizing. "So I created the group," Paige says, "and it took off like wildfire." The friends she invited told their friends, and so on, and so on.
"With the conversation, it felt like an outdoorsy sisterhood," says Paige. "It was all these patio people coming together to talk about how to make the outdoors amazing."
Members of the private Black Women Who Love Outdoor Living Spaces group—which is, as its name implies, exclusively for Black women—come together to share patio and porch reveals, DIYs, and pretty outdoor pictures. Egg chairs are all the rage among members; so are pallet DIYs, questions about how to revive droopy plants, and showing off a gazebo or potting bench built by a spouse. On Wednesdays, a member gets their patio featured, and during Posh Fridays, entrepreneurs and artists show off their wares and host giveaways that are revealed on Saturdays.
Shopping is a hot topic, with members showing off their skills in finding the best bargains from roadside drops, classified ads, Craigslist, and Facebook Marketplace. That's where Paige found her iron patio set refresh that started it all. "I'm a stalker," says Paige. "You have to be on it to get the great pieces."
As the conversation expanded to what to wear or sip while relaxing, Tara's second project, The Patio Chic (pronounced "chick," like the baby chicken) was born. That brand is for everyone, and Paige employs a diverse team of nearly 25 people to run the business selling outdoor drinkware, T-shirts, and other merchandise. Paige's sizable following is attracting the attention of major brands, and she's already collaborated with Sam's Club—not bad for a brand created less than a year ago!
While a love of the outdoors and patio living brought the group together, Paige says sharing encouragement is what makes the group a warm and inviting space for Black women. "It's about inspiration, empowerment and uplift," says Paige, who regularly shares pep talks. "You have the magic inside you to go out and do whatever you need to do. Go out there and do your thing. Somebody is waiting on your ability to solve their problem."