I Tried the Coffee That Everyone's Buzzing About — Here's My Honest Review
We independently select these products—if you buy from one of our links, we may earn a commission. All prices were accurate at the time of publishing.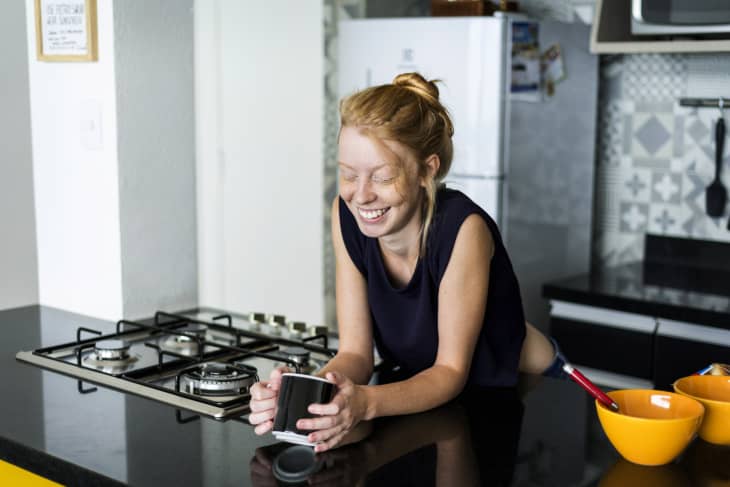 I know I'm not alone in saying that my daily routine — including my coffee consumption — changed dramatically once I started working from home. Previously something I would grab en route to work at a local shop, my morning coffee quickly became an apartment-only ritual. At first, I just grabbed whatever I could find at the grocery store to caffeinate me so I could get on with my day. But after months of being cooped up in the house, I started to crave something a little more special to give me that same satisfaction of drinking a high-quality cup you would find at a specialty coffee shop. And so I did what I always do and turned to the internet to research brands. Never did I think that Amazon of all places would give me my answer, but it did! I found the BLK & Bold dark roast blend (aka premium specialty beans with an affordable price tag). I'd seen BLK & Bold's coffee recommended on several sites (including our own) over the past year, and as it turns out, not only are the product and price great, but their company mission is as well.
Follow Topics for more like this
Follow for more stories like this
Now, I love coffee, but personally, I find a lot of third wave coffee brands too acidic, bitter, burnt, or often just odd tasting. I want something that is, as my dad refers to it, "coffee-flavored coffee" but with a little nuance. BLK & Bold does just that, providing a smooth but full-bodied flavor from 100-percent arabica beans. It's micro-roasted with subtle notes of what they call lemon and bell pepper, but I prefer to describe it as clean and bright. It grinds up easily and works well in my single-serving drip coffee maker, but since you can control the grind size yourself, any espresso, press, or drip machine should work just fine. The brand recommends this blend for lattes and other specialty drinks, so get ready to channel your inner barista!
Truth be told, I wasn't looking for something more than a tasty cup of joe when I started my research. But, I quickly realized that BLK & Bold is so much more than just good coffee. The company is fair trade certified, which means they follow strict environmental, economic, and social standards, and in 2020 they became a Certified B Corporation. Plus, the Black-owned business donates five percent of its profits to initiatives focused on helping at-risk youth, and their list of pledge partners continues to grow both locally and nationally. There's something about a company making a difference that perks me up as much as the caffeine does.
Now that I love BLK & Bold, I was tempted to use the Subscribe & Save function on Amazon to make sure I don't run out. But I'm actually excited to try their other options before I commit. They have single-origin light roasts from Honduras and Ethiopia, as well as the medium-roast Rise & GRND blend. While some experts might recommend whole beans to retain freshness, the company sells pre-ground versions with the same small-batch focus for optimal flavor, and they offer tea as well, if that's your thing. 
If the other beans are as good as this dark roast, which I suspect they are, I might have some trouble choosing. Thankfully, even though they are a premium product, the price tag really isn't. A 12-ounce bag of whole beans yields about 24 cups, so that's only about 62 cents per cup! I can buy a couple of blends and still not break the bank. And even if you disregard all the good they hope to accomplish, it literally boils down to this: BLK & Bold makes some darn good, affordable coffee that's available with one click on Amazon. But supporting a coffee brand that does good while it tastes good? Well, that's just an added perk.

Buy: BLK & Bold Coffee Blend, $14.99